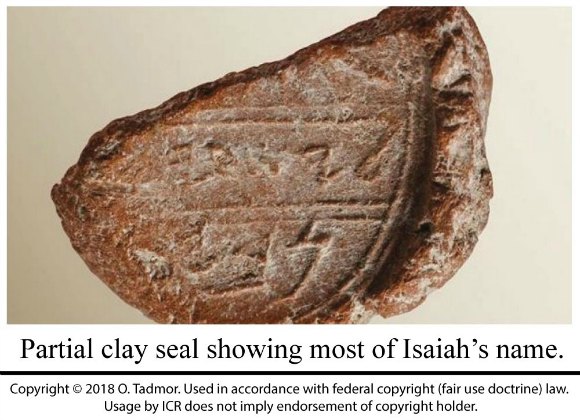 Brian Thomas, M.S. | ICR
Recently, Israeli archaeologist Eilat Mazar and his team made a stunning discovery during excavations in Jerusalem. It provides strong support for the reality of Isaiah and his Old Testament world.
Digging at the base of the southern wall of the Temple Mount, the team found a clay seal bearing Isaiah's name. Mazar provided a transliteration of this Isaiah bulla in Biblical Archaeology Review as "Yesha'yah[u] Nvy[]," where brackets indicate unknown letters from damage to the clay.1 "Yesha'yahu" is "Isaiah." If the Hebrew letter aleph stood in place of the missing letter "[]," then the word after "Isaiah" would spell "prophet." Possibly the hand of Isaiah himself formed this seal.
In 2015, only ten feet away, the team had found a clay impression called a bulla bearing King Hezekiah's seal.2 According to the Bible, the prophet Isaiah served during Hezekiah's reign and interacted directly with the king.
Read More