Email this link to a friend
What happens when a group of Virginia Christians from across denominations and from all ethnicities form an alliance based on core biblical values and enter the public square to push back immorality? The Virginia Christian Alliance's role in the defunding of Planned Parenthood in Virginia hit all major news wires when they held their press conference at the Virginia General Assembly Press Room to announce the presentation of a petition to the Governor, Lt. Governor and Attorney General to defund Planned Parenthood.
During the conference, the following reasons to defund Planned Parenthood were given.
Why defund Planned Parenthood in Virginia?
Planned Parenthood reported 1 billion dollars in revenues while doubling its profits in its annual report of 2007-07 (Alan Guttmacher Institute).
Virginia is struggling with a 4 billion dollar budget shortfall in the worst economy in a generation.
The majority of Virginians oppose having their tax dollars used to fund abortions or related activities. Planned Parenthood is the largest abortion provider in our nation.
The most recent data regarding abortion in Virginia shows that in 2006 there were 27,349 abortions performed. (statehealthfacts.org).
Black Americans make up 20% of the population of Virginia, yet 42% of the abortions performed in Virginia were on black American women (statehealthfacts.org).
Planned Parenthood has placed one third of its facilities in minority neighborhoods.
Planned Parenthood founder, Margaret Sanger, once said, "We don't want the word to go out that we want to exterminate the Negro population."
Related Margaret Sanger video.
Considering the dire situation of our economic climate, the apparent racist nature of Planned Parenthood, and the disdain that most Virginians feel for public funding of abortion, Pastors for Life respectfully ask that Planned Parenthood receive no money in this years state budget or any future state budget.
The petition drive by the Virginia Christian Alliance contained the signatures of:
Dean Nelson, Executive Director of the Network of Politically Active Christians

Dr Tony Perkins,

President of the nationally known Family Research Council in Washington, D. C.

Dr. Terry Fairbanks, East Richmond Director of the

Church of God

, representing 220 churches and 25,000 members

Dean Welty of the Valley Family Forum in

Harrisonburg, VA.

, representing a strong voice in the valley

Pastors Jeff Brauer of Winn's

BaptistChurch

in

Hanover

and Gary Stewart of Beaverdam Baptist and other members of the SBCV assocation which consist of over 500 churces throughout

Virginia

Dr. Mark Becton, President of the Southern Baptist Convention of Virginia and the Senior Pastor of Grove Avenue Baptist Church in Richmond with 2,000 members
Churches throughout all of Virginia were represented on the petition, creating a solid alliance against the continued funding of Planned Parenthood.
"The evidence is clear and overwhelming. Planned Parenthood has always been and still remains the most racist non-profit in America, with over 70% of their clinics in minority neighborhoods. Planned Parenthood must be held responsible for their unethical, immoral and racist practices. We are calling for our elected officials in the Commonwealth of Virginia to defund Planned Parenthood now!" —Dean Nelson, Executive Director Network of Politically Active Christians
The great efforts of the Virginia Christian Alliance culminated on February 18th, 2010 as over 30 pastors from across
Virginia
gathered for the luncheon and followed by their Press Conference at the Virginia Assembly Press Room to present the petition to the press.
During the luncheon, Kenyn Cureton, Vice President of Church Ministries of the Family Research Council spoke on the topic of "Speaking on Godly Government". A government without God becomes a fearful Master of the people. A godless government has no moral foundation upon which to base and enforce the rule of law. The laws of nature and nature's God are the bedrock upon which our country was founded.
Unless the church house of our nation rises up and confronts the immorality in our nation, organizations such as
Planned Parenthood will continue to wage war
on the unborn. Some of those in attendance from the Virginia Christian Alliance were: Chairman and President Don Blake, Reverend Joe Ellison, Vice President of Pastoral Relations and Church Ministries, Mr. Greene Hollowell, Reverend Dean Nelson, and others.
After the luncheon, members of the Virginia Christian Alliance convened with members of the Virginia General Assembly delegate Bob Marshall, delegate Brenda Pogge, delegate Chris Peace, State Director of the Concerned Women of America Janet Robey, Pastor Gerone Handcock of the Southside Church of the Nazarene, and many others.
Press Conference at the Virginia General Assembly

| | | |
| --- | --- | --- |
| | | |
| | | |
—————–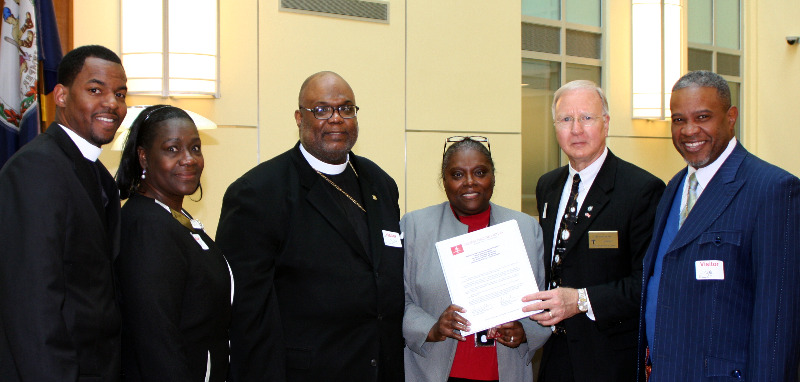 Left to right: Pastor Shawn Nicholson (VCA), Pastor Elaine Scott (VCA), Pastor Joe Ellison (VCA), the member of Governor McDonnell's staff, Don Blake (VCA) and Bishop Darryl Husband of Mount Olivet Baptist Church
Press Conference
The press conference exposed both local and national press to the Planned Parenthood agenda and the call from hundreds of churches across the Commonwealth and their members to put a stop the funding of Planned Parenthood of Virginia.
The news hit major wires and papers across Virginia and the call went out to our Virginia elected representatives to act.
From Black Christian News:
The pastors cited what they called the "unethical, immoral and racist practices" of Planned Parenthood, the nation's No. 1 abortion provider.
Story hit the Associated Press and was published across the country, from the Chicago Tribune to the Washington Examiner:
The Virginia Christian Alliance presented a petition signed by the Rev. Pat Robertson, the Rev. Jonathan Falwell and dozens of others asking Republicans McDonnell, Lt. Gov. Bill Bolling and Attorney General Ken Cuccinelli to help defund the organization
Other articles ran the next day,
Clerics call for state to ax Planned Parenthood cash by Julian Walker of the Virginia Pilot
Virginia Christian Clergy Urge Defunding of Planned Parenthood by the Christian Clause
National News Media including the Christian Broadcasting Network ran stories.
"Today, this African American pastor is declaring war against Planned Parenthood," said Rev. Joe Ellison, vice president of the Council on Biblical Principles. "We're asking pastors to shut them down in their communities. We're asking pastors to pray them out and we're asking Planned Parenthood to leave our children alone."
Continued, click here.
Other articles ran the next day,
Clerics call for state to ax Planned Parenthood cash by Julian Walker of the Virginia Pilot
"…Prince William County Republican Del. Bob Marshall said the group has promoted irresponsible attitudes toward intercourse that have led to the proliferation of venereal diseases.
"This organization should be called 'Planned Barrenhood,' because they have nothing to do with families," he said. "They have nothing to do with responsibility."…
Dozens of Virginia's most influential Christian leaders, including Rev. Pat Robertson and Rev. Jonathan Falwell, have signed a petition to the state's governor, lieutenant governor and attorney general asking them to take steps to cut off state funds that go to Planned Parenthood. AP reported yesterday that the petition presented by the Virginia Christian Alliance complained that Planned Parenthood provides abortions. It accused the organization of "unethical, immoral and racist practices." Pastors cite a quotation from the 1939 book written by Margaret Sanger, the founder of Planned Parenthood, who supported the now-discredited theory of eugenics.
Governor McDonnell, Lt. Governor Bolling and State Attorney General Cuccinelli React
Julian Walker of Pilot Online News wrote the next day, February 19.
McDonnell, Bolling, Cuccinelli react to Planned Parenthood push
Virginia's top three elected officials — all Republicans — expressed support Thursday for an effort by religious leaders to eliminate any state money that goes to Planned Parenthood, a health care organization that provides abortions.
Here are some responses from their offices:
"Lieutenant Governor Bolling does not believe that public funds should be used to pay for abortions, nor does he believe that public funds should be used to support organizations that provide abortions, such as Planned Parenthood. In fact, in 2007 the Lieutenant Governor cast the deciding vote in the Senate to withhold public funds from Planned Parenthood. His position has not changed."
Ibbie Hedrick, spokeswoman for Lt. Gov. Bill Bolling
"Attorney General Cuccinelli supports withholding state funds for Planned Parenthood. It is Constitutional for state money to go to third party contractors, but just because it is Constitutional does not mean that it is a good policy and state funding of Planned Parenthood is a bad policy. Attorney General Cuccinelli supports the overall goal of this group, but does not plan to sign a petition." Dan Dodds, spokesman for Attorney General Ken Cuccinelli
The petition referred to in the response from Cuccinelli's office is a document the religious consortium is circulatng.
Among its prominent signatories are Virginia Beach-based religious broadcaster Pat Robertson and Jonathan Falwell, son of Liberty University founder Jerry Falwell.
Another noteworthy public figure who plans to sign the petition is Gov. Bob McDonnell, a spokeswoman for the governor said Thursday evening.