Virtually every day in the news we hear about a young person, perfectly healthy, with no antecedent illness drop dead without explanation. As the cases roll in it has been my general observation that if the cardiac arrest is witnessed and there is prompt defibrillation, as in the case with Demar Hamlin, then neurologic and overall survival is possible.
Out of guilt, remorse, shame and in the stupor of a COVID-19 vaccination trance, the victim and the family usually make no statement about vaccination status—something that would have been a proud point of a selfie or a tweet a few years ago. In a recent paper by Li et al, the cellular basis for the wide range of mechanisms the lead to cardiac arrest in a COVID-19 vaccinated person are described.
I was alarmed that the authors considered cardiac arrest and death "common" as listed in Table 2.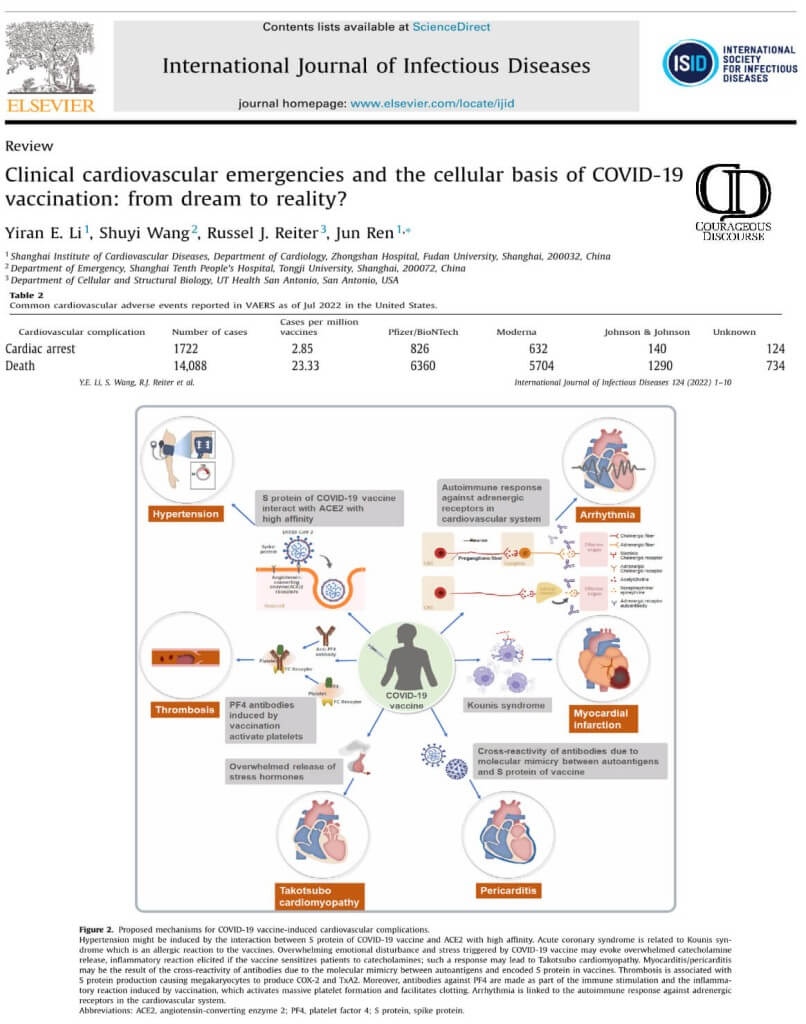 Of note, the authors point out that Takotsubo cardiomyopathy, coronary ischemia, and myocarditis as underlying conditions have been found as the cause of cardiac arrest as reported in safety databases.
A surge in adrenalin with the injection, during the later hours of sleep, and with athletics appears to play a role in the precipitation of the lethal arrhythmia.
The authors also raise the issue of Kounis syndrome, or histamine and inflammatory factors triggering a heart attack. In the title, Li and coworkers imply that mass vaccination was a "dream" and now the cardiovascular complications including large-scale death represent the "reality" we are facing with this public health debacle.
Papers such as this are important as they may lead to more applied research on therapies to prevent arrythmias and help navigate patients through high risk periods after ill-advised COVID-19 vaccination. On a population level, the best strategy to save lives is to remove all the vaccines off the market and start cardiovascular screening programs for high risk individuals.
If you find "Courageous Discourse" enjoyable and useful to your endeavors, please subscribe as a paying or founder member to support our efforts in helping you engage in these discussions with family, friends, and your extended circles.
Li YE, Wang S, Reiter RJ, Ren J. Clinical cardiovascular emergencies and the cellular basis of COVID-19 vaccination: from dream to reality? Int J Infect Dis. 2022 Nov;124:1-10. doi: 10.1016/j.ijid.2022.08.026. Epub 2022 Sep 6. PMID: 36075372; PMCID: PMC9444584.