FRC's Tony Perkins, Senator Lindsey Graham Join Pro-Life Leaders in Sharing What Pro-life Voters Want To See in the 2024 GOP Nominee For POTUS
WASHINGTON, D.C. — Last night, ahead of the one-year anniversary of the U.S. Supreme Court's decision in Dobbs v. Jackson Women's Health Organization, U.S. Senator Lindsey Graham (R-S.C.), pro-life leaders, and Iowa voters gathered at Experience Church in Des Moines for a Townhall Meeting for Life.
Senator Graham was joined by Marjorie Dannenfelser, president of Susan B. Anthony Pro-Life America, Bob Vander Plaats, president of The Family Leader, Mayra Rodriguez, former Planned Parenthood director and whistleblower, and Family Research Council President Tony Perkins who moderated the townhall discussion.
The event's focus was to communicate that pro-life voters in churches across America expect Republican leaders, including presidential candidates, to champion the protection of the unborn.
As Senator Graham stated, the price of admission to be competitive in Iowa was at a minimum to agree to support legislation that would protect an unborn child when it feels pain and can suck its thumb.
During the townhall, Perkins pointed out there remains a federal role in protecting the unborn. "The overturning of Roe v. Wade did not eliminate abortion in America, it simply put the issue into the hands of the people and their elected representatives — at every level of government."
Dannenfelser stated: "When it comes to life and death, and you have called yourself a pro-life public official, you don't get to the starting line after 50 years of blood, sweat, tears, prayers and 63 million children dying…you don't get to the starting line and say: 'I'm done.' …What I'm afraid that we are seeing is a lot of fear at the starting line and what we want to see is…running the race well to the end. And the end means, every single child in this country is protected. That's the end of the race."
Rodriguez shared: "In reality, the majority of people, the citizens in the streets, the normal working people, especially the Hispanic community, you know, we are very protective of our families. That's who we are. That's how we were raised, you know. We don't put our grandparents into hospice homes, we keep them with us. And we do the same thing with our children. So, to come and tell the Latino community: 'kill your children' goes against everything we believe on."
Vander Plaats said: "Iowans are really good about authenticity. Do you believe what you say to be really real? And that's what we're looking at for the sanctity of human life. We want a champion for the sanctity of human life because they believe in it, not because of what the polls say. Instead of reacting to the polls, we want this person to shape the polls, to shape Americans' thinking on [abortion]."
To watch the townhall, please see: https://prayvotestand.org/townhall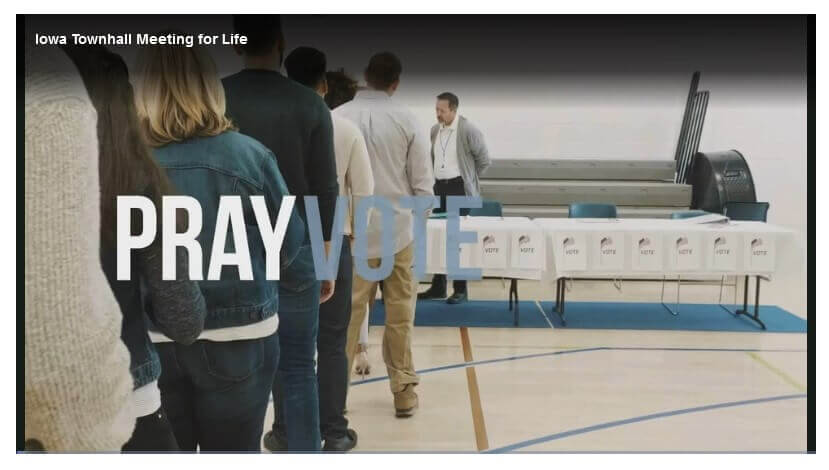 -30-