Herring Impeachment – Action Needed!Thank you for joining The Virginia Christian Alliance's effort to "impeach Attorney General – Mark Herring". We have collected a lot of petitions and every day we get more via email and U.S. Postal mail. Last week we collected 94 in one day.
We don't have a "magic number" of petitions needed. VCA's goal is to bring public pressure on the Speaker of the Virginia House of Delegates, Bill Howell, to move the House to call for impeachment. Speaker Howell is the only person that can say "yes" or "no" to impeachment. He needs to know that the citizens of the Commonwealth will stand behind him to move forward.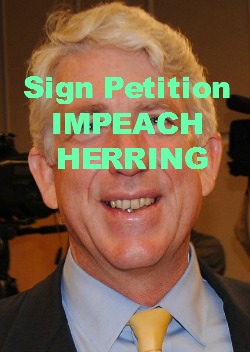 We have been waiting for the appropriate time to push for action.
That time is now!
You may have heard, it's been on T.V., radio and newspapers, that Delegate Bob Marshall, longtime champion of conservative values in Virginia's General Assembly, has taken up the fight to hold Attorney General Mark Herring accountable for actively opposing our Constitution's Marriage Amendment.
On Thursday, Delegate Marshall filed two resolutions in the House of Delegates, asking the House to initiate an inquiry as to whether Herring should be impeached for his outrageous actions.
In urging a federal court to overturn part of Virginia's Constitution, Herring has not only undermined the most basic building block of civilization; he has undermined the very rule of law that shields a free, self-governing people from tyranny and has failed to perform his most basic job duties.
In a shockingly brazen statement on the Attorney General's website, he claims a sweeping, absolute prerogative to determine the legal position of the Commonwealth in legal cases without regard to the explicit text of our duly-enacted laws and Constitutional provisions: "The Attorney General is the sole person empowered to present the Commonwealth's position in legal matters and it is up to him or her to determine that position through rigorous legal analysis".
Please help Delegate Marshall in his effort to restore the rule of law in Virginia and to hold our Attorney General accountable for his unconscionable betrayal of our Constitution by asking your own Delegate and Speaker Bill Howell to support Delegate Marshall's impeachment resolutions.
We, the people, need to know which Delegates and Senators are committed to constitutional government, and which ones are not.I urge you to:
Pray for righteous leadership to come forth in our Commonwealth and our Nation.
Go to Delegate Bob Marshall's website: www.delegatebob.com and see his postings on impeachment of Mark Herring.
Also on his website please read Bob Marshall's press release and his resolution presented to the Virginia House of Delegates.
What you can do:
Contact Speaker, Bill Howell at: Email: delwhowell@house.virginia.gov and Phone: 540-371-1612 Fax: 540-371-7449
Contact your Delegate and ask them to support The Marshall Resolutions.
Time is of the essence in this impeachment matter. The process can only begin when the General Assembly is in session.
The state budget issue is having an effect on the time length of this "session".
On another note, the Virginia State Bar has processed at least sixty nine (69) formal bar complaints against Attorney General Herring. Herring's private attorneys are vigorously defending him (who is paying for his private lawyers?).
Please go to the following sites to help support the impeachment and disbarment of Virginia's rogue Attorney General.
Also, would you share this with your like minded family and friends?
Thanks,
Don Blake
Chairman/President
Virginia Christian Alliance
www.vachristian.org