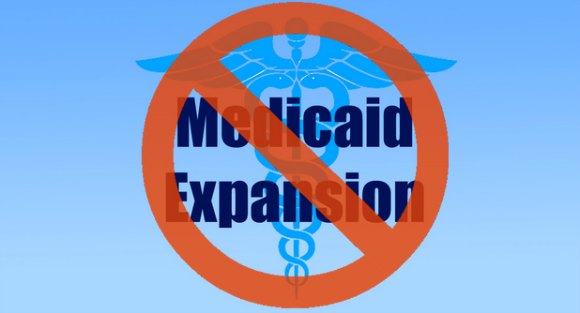 We need your help to stop Medicaid expansion in Virginia!
"Trump is lowering taxes; reducing regulations and the economy is on a tear.
He has now committed to Medicaid funding cuts.
Our Representatives below​ have voted to expand Obamacare Medicaid and raise taxes throughout the budget!​"
Republican Delegates want a $307 million "Sick Tax" on hospitals (costs passed on to patients) in the two-year House budget to help pay for 300,000 (or 400,000?) more Medicaid enrollees, including able-bodied Virginians with jobs. So far, the Senate has not expanded Medicaid, but budget conferees will iron out the budget differences in a Conference Committee shortly.
According to the February 24, 2018 Daily Press, "The House plan would use $2.9 billion in federal funds and a $307 million tax on hospitals over the next two years to expand Medicaid in order to cover all Virginians with incomes less than 138 percent of the federal poverty level. For a single person, that cutoff is $16,642 a year. The Senate plan does not include any of that federal or hospital tax money."
Republican delegates hope that Washington will keep sending Virginia an additional $1.5 billion a year to pay for Medicaid expansion Virginia. However, the Trump Tax Reform legislation repealed the Obamacare individual mandate tax penalty effective 2019.
And while the repeal is a good move, it reduces billions in federal revenues. Forbes Magazine (10/22/17) predicts Trillion Dollar Deficits for at least the next three years, so Virginia cannot assume federal subsidies for Medicaid will continue.
Medicaid now pays for dental braces in Virginia while many hard-working families with private insurance cannot afford them for their own children. If President Trump succeeds in repealing Obamacare entirely, will Virginia taxpayers foot the entire bill for Medicaid expansion with major tax hikes, or reduce other state programs?
Why would House Republicans flip their phony "kill switch" on Medicaid expansion if the $1.5 billion annual federal subsidy dries up, if they can't say no now to Democrats wanting 300,000 (or 400,000?) new Medicaid enrollees. If the federal subsidy ends, would Virginia hike taxes to continue to pay for the program?
Very few doctors accept Medicaid patients now. An additional 300,000 Medicaid enrollees means more will use hospital Emergency Rooms when they can't see a doctor. How will this improve health care or the financial solvency of hospitals?
VA Christian Alliance asks citizens to contact their state Delegates and Senators. Urge them to urge the Senate and House conferees to remove Medicaid expansion from the final budget.
Contact the 19 Republicans
Ask them why they support the failed Obamacare Medicaid expansion?
TELL THEM IFTHEY OPPOSE OBAMACARE TO PROVE IT – VOTE FOR THE SENATE BUDGET NEXT WEEK!
CALL / VOICEMAIL / EMAIL ASAP!
THE DELEGATES WHO SUPPORTED OBAMACARE
| | | | |
| --- | --- | --- | --- |
| Terry L. | Austin | (804) 698-1019 | DelTAustin@house.virginia.gov |
| Robert S. | Bloxom Jr. | (804) 698-1000 | DelRBloxom@house.virginia.gov |
| M. Kirkland | Cox (Speaker) | (804) 698-1066 | DelKCox@house.virginia.gov |
| Glenn R. | Davis | (804) 698-1084 | DelGDavis@house.virginia.gov |
| Janes E. | Edmunds, II | (804) 698-1060 | DelJEdmunds@house.virginia.gov |
| T. Scott | Garrett | (804) 698-1023 | DelSGarrett@house.virginia.gov |
| Gordon C. | Helsel Jr. | (804) 698-1091 | DelGHelsel@house.virginia.gov |
| M. Keith | Hodges | (804) 698-1098 | DelKHodges@house.virginia.gov |
| Riley E. | Ingram | (804) 698-1062 | DelRIngram@house.virginia.gov |
| S. Chris | Jones | (804) 698-1076 | DelCJones@house.virginia.gov |
| Terry G. | Kilgore | (804) 698-1001 | DelTKilgore@house.virginia.gov |
| Barry D. | Knight | (804) 698-1081 | DelBKnight@house.virginia.gov |
| Daniel W. | Marshall III | (804) 698-1014 | DelDMarshall@house.virginia.gov |
| Janes W. | Morefield | (804) 698-1003 | DelJMorefield@house.virginia.gov |
| Christopher K. | Peace | (804) 698-1097 | DelCPeace@house.virginia.gov |
| Todd E. | Pillion | (804) 698-1004 | DelTPillion@house.virginia.gov |
| Christopher P. | Stolle | (804) 698-1083 | DelCStolle@house.virginia.gov |
| Robert M. | Thomas, Jr. | (804) 698-1028 | DelBThomas@house.virginia.gov |
| David E. | Yancey | (804) 698-1094 | DelDYancey@house.virginia.gov |