Fifty-five years ago, the House Judiciary Committee considered a bill that would affirm one of the cornerstones upon which our nation was built. Although opposed by a small minority of the American public at the time, the bill received overwhelming support by Americans and members of Congress. The bill passed unanimously out of the Judiciary Committee, unanimously in the House of Representatives, and unanimously in the Senate before it went on to be signed into law by President Dwight D. Eisenhower.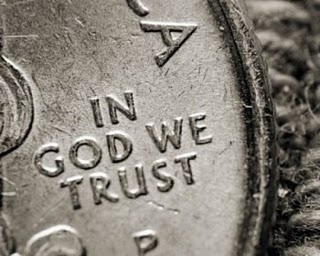 The legislation was H.J.Res.396 and it declared the official motto of the United States to be "In God We Trust."
Though the motto was officially named that year in 1956, its origin and importance can be traced back long before that point. From the very inception of our nation, our Founding Fathers declared the United States to be a nation that trusted in God. In 1814 when Francis Scott Key was writing what would become our national anthem, he included the phrase "in God is our trust." In 1864, Congress passed legislation that directed the Mint to develop designs for one- and two-cent coins, and "In God We Trust" first appeared on the 1864 two-cent coin. In 1955, Congress mandated that "In God We Trust" be placed on all of our currency.
The belief was that "In God We Trust" has been a bedrock upon which our nation was built, and it is only appropriate that we would designate the phrase as our national motto and proudly display it on our currency and in our public buildings, schools, and other government institutions.
This week, the House Judiciary Committee once again considered a bill acknowledging "In God We Trust." The resolution that I introduced, H.Con.Res.13, reaffirms our national motto and supports and encourages the public display of the national motto in all public buildings, public schools, and other government institutions.
For many individuals, the reason for H.Con.Res.13 is clear. However, there are a few that may ask "why affirm our national motto if it is already the law of the land? Why affirm if it was already passed into law in 1956?"
Over the past several years, we have seen efforts to change our national motto in a de facto manner. Federal agencies and departments have been instructed that the phrase not be posted in those buildings. The effect on our public schools has been chilling, as teachers and administrators do not know whether they can post our national motto on their walls. Officials at Congress' very own Capitol Visitor Center put in stone that our national motto was e Pluribus unum, until I led the House of Representatives in 2008 to stand up and say we cannot let the inaccuracy stand. We watched as the President of the United States traveled to the University of Indonesia in Jakarta and inaccurately shared that our national motto is e Pluribus unum. These omissions and inaccuracies are a part of a larger pattern we are seeing that inaccurately reflect America and undercut important parts of our nation's history.
Still others may ask "why deal with 'In God We Trust' when we have so many other worries facing our nation?" However, proceedings from the 1956 Judiciary Committee debate pointed out that "In God We Trust" is an inspirational phrase. In fact, looking back at the very moments when Congress made major actions on the phrase, we realize that it was during some of our most tumultuous times we have faced as a nation – the War of 1812, the Civil War. In fact, the president who signed the motto into law was the very allied commander who led one of the greatest wars in which the United States has ever fought, World War II. They knew, as we know today, that Americans need inspiration in difficult times.
If ever there was a time that we should reaffirm our national motto it is now. I am happy to share that, yesterday, the House Judiciary Committee voted in favor of the "In God We Trust Resolution." The bill will now be sent to the full House of Representatives for consideration.
There may come a day when a generation of Americans is willing to turn its back on that motto and say either that America does not have the right to trust in God or that it should not trust in God. Fortunately, today is not that day, and this is not that generation.