Saturday April 18, 2015 / 6 – 10pm
At Veritas School / 3400 Brook Road,
Richmond VA 23227
The East End Pregnancy Center's annual fundraiser, Toast to Life, will be NEXT Saturday, April 18th, at Veritas School (3400 Brook Road). The East End Pregnancy Center, strives to demonstrate the biblical principle of serving Richmond's widows and orphans. We offer life affirming counsel, practical, emotional and spiritual support throughout a pregnancy and beyond for women facing unplanned pregnancies. We offer material support to help single moms provide for their families. For more information on how you can support this great cause, and to get tickets for the event, please visit www.toast2life.org.
The event will feature drinks, dancing, tasty treats and delicious eats, courtesy of Champagne Taste Catering. There will be a live auction to purchase great items for yourself and family.
Come join the fun!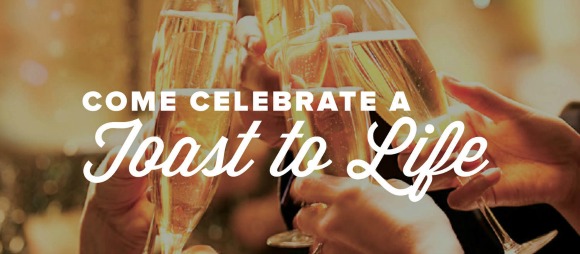 History of East End Pregnancy Test and Help Center:
In 2010, a steering committee was formed to see how to address the high abortion rate (60%) in the east end of Richmond and meet the needs of the east end families with life-affirming services. In 2011, a board of directors was established and after funds were raised from our first Toast to Life, our doors opened. With a small staff and volunteers, we began seeing clients. In 2012, we were granted 501(3)(c) tax-exempt status. New staff and more volunteers were implemented in 2014 and we have seen tremendous client growth and served almost 300 women last year. We are located in a highly visible strip mall by a barbershop and nail salon.
The East End Pregnancy Test and Help Center's mission:
To enable every woman to choose life for the child in her womb. We do this by encouraging our clients to love themselves and their children, educating our clients to live productive lives, and empowering our clients to choose life with the confidence that they are not alone and that their lives and their children's lives have intrinsic value.
Many of our clients live below the poverty line. Most of our clients are uninsured or underinsured. The majority of our clients come from single parent households and they themselves are not in stable relationships. Many of our clients have experienced the devastation of abortion first hand and have lost family members to abortion.
We offer wrap around pregnancy support including free pregnancy tests, parenting and adoption counseling, client advocacy, community referrals, material support, and post abortion ministry. All of these services are offered free of charge and send a message of love and compassion that stands in the face of the culture of death that is prevalent in the community we serve. Our consistent message is: "You are not alone. We are here to help. This unplanned child is a God-given blessing, not a curse. We will partner with you so you have a hope and a future."
The East End Pregnancy Center does not receive government funds; we are supported by donations from caring individuals, organizations and churches. We are blessed to have church support from many denominations including Protestant and Catholic churches. Some churches have supported us in practical.