Governor Bob McDonnell recently appointed Dr. Seeds to the Virginia Board of Health. The Richmond Times-Dispatch covered the appointment on the front page along with Ken Cuccinelli's opinion on the abortion clinic regulations.
John and his wife Marie have been a part of the VCA family since our beginning. As the article indicates, John is the Vice Chairman of VCA's OBGYNs for Life. For years, John and Marie have championed the cause of unborn children. John has spoken at many venues about the pro-life cause and testified before many state committees on medical issues regarding abortion. This past January, John was part of the VCA group that met with Governor McDonnell's Secretary of Public Policy, Jason Eige.
To many of us, John and Marie are our local "pro-life Saints."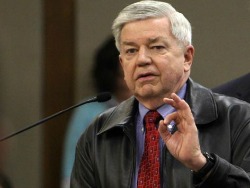 Congratulations to John for this very important appointment. And our thanks go to Governor McDonnell for making the appointment.
This appointment was covered by major news wires, feminist groups and from both sides of the sanctify of life issue
NBC: Morning Read: McDonnell Appoints Outspoken Pro-Life Advocate to Virginia Board Of Health
Richmond Times-Dispatch:McDonnell appoints anti-abortion doctor to Board of Health
Ms Magazine: A feminist wire:VA Governor Appoints Anti-Choice Doctor to Board of Health
RICHMOND, Va. — July 17, 2012
Gov. Bob McDonnell has appointed an outspoken opponent of abortion to sit on the Virginia Board of Health.

The appointment of Dr. John W. Seeds, an obstectrician at VCU Medical Center and vice chairman of the anti-abortion group OBGYNS for Life, comes just one month after the board voted 7-4 to grandfather the state's existing abortion clinics from stringent new regulations that would require the facilities to meet building standards for new hospital construction.

The clinic regulations were passed by the General Assembly in 2011 as part of a last-second amendment by anti-abortion Republicans to an emergency preparedness bill that went undetected by Democrats and abortion rights advocates.

Anti-abortion groups and religious organizations supporting the legislation said the new rules were necessary to ensure women's health and safety at the clinics, which are licensed to perform first-trimester abortions. Medical specialties where similarly invasive outpatient surgical procedures are performed were not included in the new regulations.

But abortion rights advocates and women's groups contend that the new regulations are a veiled attempt to restrict a woman's access to a legal abortion in the commonwealth because the cost of retrofitting the facilities could force many of the 21 clinics out of business.

The regulations are currently under executive review by the governor and attorney general's office. Both McDonnell and Attorney General Ken Cuccinelli oppose abortion.

Seeds was among six physicians appointed in 2011 to help draft the regulations for the Virginia Department of Health. Following the process, a number of the physicians complained that a number of the regulations that were produced, including the additional building and infrastructure requirements, were "not medically necessary" and were driven by the politics of the executive branch.

On Monday, the Coalition to Protect Women's Health said the appointment of Seeds is a threat to the moderation of the regulations.

"For Governor McDonnell to appoint Dr. James Seeds, a prominent member of an ideological anti-choice organization, to a public health body charged with acting objectively on the side of patient safety, is a clear and shocking conflict of interest," said Tarina Keene of the Virginia Coalition to Protect Women's Health.

"With this appointment, this activist governor continues to display a disdain for women's health, playing politics with lives instead of acting in the public interest."

On Monday, McDonnell defended the appointment of Seeds and signaled that he may not support the revised regulations passed last month by the board, which Seeds is now joining as a voting member.

"Dr. Seeds is a great doctor — he's a very well-respected obstectrician," the governor told reporters Monday.

McDonnell said he believes the initial guidelines passed by the legislature "were correct. I think that they were loyal to the statute that passed."

"In due course, I'll get those and make a comment on them and we'll see what happens …
Dr. John Seeds practices fetal medicine & maternal medicine and obstetrics & gynecology in Richmond, Virginia. Dr. Seeds graduated with an MD 38 years ago. He is Senior Associate Dean of the Professional Education Program at VCU. He is Professor of OBGYN and Radiology. Dr. Seeds is one of the Founding Advisory Board Members for the Virginia Christian Alliance and Vice Chairman of Virginia OBGYNS for Life.