Email this link to a friend
On September 13, 2011, Virginia Christian Alliance took a busload of pastors to Washington to visit with Congressman Eric Cantor. There were pastors from Norfolk, Fredericksburg, Colonial Beach, Kinsale, Colonial Heights, Beaverdam, and the Richmond area. Our pastors were taken on a tour of the Capitol and then met for 30 minutes with Congressman Cantor in the House Majority Leader's Conference Room to discuss public policy and current issues. Our pastors were treated to lunch in The Capitol Club and heard some inspiring speakers.
Two Congressmen, Tim Scott of South Carolina and Allen West of Florida, spoke about their personal beliefs and current issues facing our nation. Their messages were enthusiastically received by our pastors. In addition, Chaplain Barry Black of the Senate, and Rev. Patrick Conroy, Chaplain for the House of Representatives, spoke to our group. Majority Leader of the House of Representative, Congressman Eric Cantor, also was a speaker at the luncheon. Our Virginia pastors were impressed with what they heard to the point that they talked politics and the role of the Church all the way back to Richmond. It truly was a blessed day for all.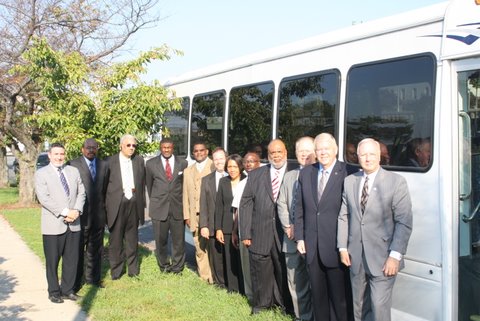 Pastors boarding the bus to Washington
Meeting in the Conference Room with Congressman Cantor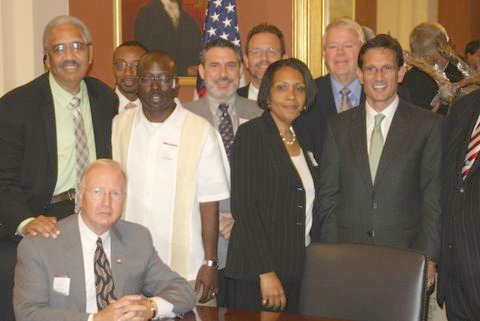 llllllllllllllllllllllllllllllllllllllllllllllllllllllllllllllllllllllllllllllllllllllllllll<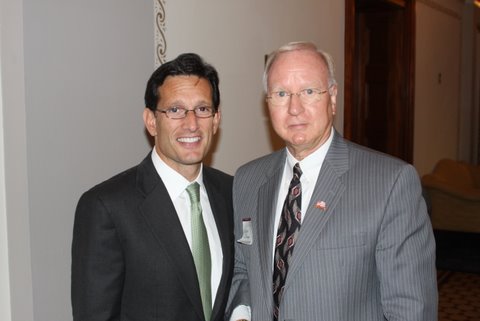 Majority Leader in the House of Representative, Congressman Eric Cantor, with Don Blake, Chairman of the Virginia Christian Alliance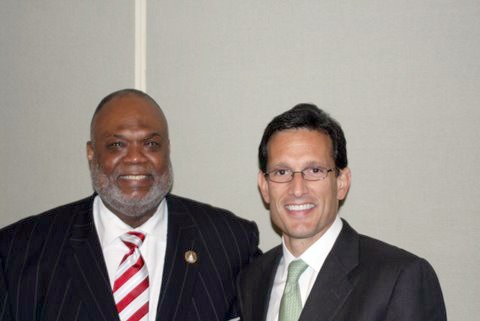 Pastor Joe Ellison, Jr., of Essex Village Ministries in Richmond, with Congressman Cantor