Though it seems to be simple request, the tapestry of God's work with the pro-life rescue movement would take a book to lay the foundation for the just a corner like "The Spring of Life!" Nevertheless, here is a small piece of the cloth.
The year was 1992. I served as the chairman of the Western New York Clergy Council in Buffalo, NY. By that time, I had also become a pro-life leader and participated in pro-life rescues across the country. At a rescue, Christians are willing to go to jail to save the life of a child by practicing non-violent civil Christian obedience and block the doors or driveway to prevent abortions at a given place on a given day.
The people were everyday Christians who answered the call to lay down their lives for the least of these. In the early days of rescue, before 1990, a small GROUP of about 25 folks could shut down an abortion for a day. Jail was seen as a small price to pay to save the lives of the babies. It was noted that if mothers did not get an abortion on that day, some would decide to keep their babies.
As time went by and more people joined the rescue movement which included prayer warriors, side walk counselors and rescuers, the price of the sacrifice increased. Prayer warriors were people who did not risk arrest but were there to pray across the street for those who did; sometimes they were arrested, too. Side walk counselors were the few women who were authorized to offer legitimate physical as well as spiritual help to women considering an abortion. Those who rescued were Christians from all walks of life. However, as the rescue movement rapidly became more effective and began to occur in larger cities like Atlanta, Washington, DC and New York City, the police response with the help of Janet Reno intensified and hundreds would be arrested on a given day to save the babies.
To give you and idea of the government's and federal courts determination to crush the rescue movement, I was threatened by a federal judge with a huge civil fine the first night I was scheduled to speak at New Covenant Church in Buffalo. He had ruled that a certain scripture could not be read or quoted from the pulpit. The judge sent word to me via an attorney before I went into the pulpit that I could not quote the verses of scripture found in Proverbs 24:11-12. If I mentioned them once, the fine would be $10,000.00 and if I mentioned them again the fine would double the previous fine and be added to it making it $30,000.00 (and so on). I thought it was so odd because that was the very verse for the sermon that The Holy Spirit had given me (I wondered that night how many PREACHERS would preach a sermon that could cost them a hundred thousand dollars). When I let the attorney know that I would be preaching from that scripture, the attorney was joyful and agreed to represent me pro bono. It was a very interesting night. As the pastor, Rev. Paul Schenck, a Christian activist, introduced me, he let the large crowd in attendance know about the judges ruling. To make sure I understood what scripture the judge was referring to, he read it several times as the people rejoiced. As I walked upon the pulpit, a certain gubernatorial candidate jumped on stage and read the scripture, too. Needless to say, I quoted the scripture so often that night that I have no idea of how high the fine would be. This scripture states:
Proverbs 24:11,12
11If thou forbear to deliver them that are drawn unto death, and those that are ready to be slain;
12If thou sayest, Behold, we knew it not; doth not he that pondereth the heart consider it? and he that keepeth thy soul, doth not he know it? and shall not he render to every man according to his works?
Needless to say the judge had overstepped his bound. Without going into detail, the judge working WITH the abortionists and Janet Reno, became even more aggressive in their prosecutions of pro-lifers who even thought of participating in a rescue.
As a leader the pro-life movement in Western New York, there was one grave responsibility that I carried. We only had a few sidewalk counselors who saved a child every where they stood. However, we had so many abortion sites that they could not all be covered. It was my call to select the abortion site where they would go. And no matter my decision, afterwards I would cry. Because I knew that where ever they went, a child would be saved that day and where they were not, all children would die. After much prayer with like minded pastors, The Lord placed an event on my heart called "The Spring of Life." Our enemies knew it was coming but they did not know when, yet they got court INJUNCTIONS against certain leaders but not me. When it was time, we put out the call for "The Spring of Life" with the goal to shut down a certain abortion site for two weeks. Because the two week EVENT was held during the Easter break (spring break for leftist colleges), not only did pro-lifers around the nation respond to support it, so did the abortion radicals and homosexuals groups to oppose it.
Over 2,000 people risked arrests. About half were jailed. WITHIN the first few days, men and women were held in an armory which had been secretly converted into a prison with cages prior to the event. Every person arrested has a personal testimony much more powerful and personal than mine. At the time, the tests were trials (literally); today, they are testimonies and a blessing of what God can do when you are being held a prisoner as a follower of Jesus Christ. Of the thousand who came from out of town, none had to stay in a hotel. Other Christians opened their homes to strangers and families became friends for life. Churches of various denominations worked together to feed everyone who was participating in The Spring of Life. Pat was in charge of daycare and teachers volunteered to teach and keep the children. Churches provided a large meal for the multitude everyday. Doctors offered free pre-natal care and follow-ups for every mother who decided to keep their child which gave the side-walk counselors more to offer. Lawyers organized into a group called "Lawyers for Life" and represented each and every individual pro bono. Legal scholars from other parts of the country, like the cause attorney John Broderick even stepped in to help as well as the American Center for Law and Justice.
However in my case, I was held for nine days without being charged. An attempt to bail me out was UNSUCCESSFUL because (technically), I had not been charged. It took Amnesty International to step in and get me released.
The court injunctions failed because they specifically named Operation Rescue (OR) as the defendant. The federal judge did not know that OR would not be there. Pastor Keith Tucci had become the national leader of the Operation Rescue National which provided experienced leadership for the event. After the event was OVER, some pastors and even Nancy Walker, the head of the side walk counselor WERE sent to prison for quite a while. One pastor was sent to prison as co-conspirator and he had no involvement in the planning. By putting up no defense, he took the legal hit so that another pastor could offer leadership to other rescues across the nation.
As I stated before, everyone who participated has a testimony and their lives were transformed. Lawrence (Larry) Behr, a devout Catholic was the founder of The Western New York Lawyers for Life is now the head of Life Legal Defense Foundation. Attorney Dwight Sanders, an evangelical who defended the reading of scripture in Buffalo is now Pastor Sanders in Virginia. In 1990, he and the pastor Rev. Paul Schenck also challenged the federal judge who imposed a "floating buffer zone" which got Paul arrested for handing out Bibles to mothers in front of an abortion site. In 1997, the case went all the way to the U. S. Supreme Court, No. 95-1065, PAUL SCHENCK and DWIGHT SAUNDERS, PETITIONERS v. PRO CHOICE NETWORK OF WESTERN NEW YORK et al and Rev. Schenck and Sanders prevailed.
When The Spring of Life was announced, the abortion industry linked up with the Clinton Justice Department with Jane Reno at the helm and Eric Holder as the Deputy Attorney General. Yet, the late Mayor of Buffalo, Jimmy Griffith, in a public press conference, welcomed the rescuers to the city. He stated in a press conference that if they broke the law, they would be arrested, but if one life was saved, it would worth it. Of the hundreds that were arrested, not one was arrested for a violent act (THE OTHER SIDE CANNOT SAY THAT). The report from the crisis pregnancy centers indicated that several hundred babies were saved. We later learned from court records and the abortion operators that in that 2 week event over 700 babies were saved. The abortion mills never recovered from that lost and most had to shut down permanently.
At a pro-life Christmas celebration that year, I made a special presentation to Mayor Griffith. In front the TV news reporters, I reminded the mayor of what he had said. On behalf of the local pro-life movement, I thanked him. Instead of giving him an award, I called a young mother named "Rose" to come forward. She placed her baby, a baby that WAS saved during the Spring of Life, into the arms of the mayor. And tears rolled down his cheeks, Mayor Griffith embraced that moment as the best Christmas present ever.
The rescuers have aged now and some are asleep. Many have done hard time in jails and prison across this nation. They never risked arrest for the sake of being arrested. However, those who are still alive are still active in ministries across the world and always willing to encourage others to put self aside and follow Christ. No matter where you live there is always one nearby you — such as the pro-life missionary, Dennis Green, Life & Liberty Ministries in Powhatan, Virginia.
Cal Zastrow who wrote the piece on "The Spring of Life" is the type of missionary who brings the gospel of Jesus Christ TO countries where his life is in danger. For those who know him, his body is on earth but his mind, his heart, his whole being yearns FOR the heavenly home and that IS where he resides most of his waking moments. Like you, Brother Greene, they have no problem going TO the killing site and standing at the gates of hell to save the least of these.
You and the Virginia Christian Alliance have done a great job in getting more Christians actively involved to save this nation and many souls. Please continue to work to make things spiritually better. Just know, that if Christianity in America is ever outlawed, the prisons will once again have those like Paul and Silas. A dose of persecution will not quench the flames of revival; it will fuel it.
God blesses you!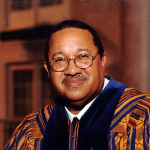 Dr. Johnny M. Hunter is an Advisor for the Virginia Christian Alliance and the President of Global Life & Family Mission, a ministry dedicated to promoting traditional family values, racial harmony, and the survival ofchildren around the world. He is also the National Director of Life Education AndResource Network (LEARN, Inc.), a consortium of life affirming pro-family advocates,which is a prominent African-American evangelical pro-life ministry in the United States.