Americans United for Life just dropped a bombshell on Planned Parenthood with their new 37-page report that summarizes the abortion giant's scandals and illicit activity over the past few decades. Find the full report here.
The report calls for an extensive Congressional investigation to determine whether Planned Parenthood deserves over $363 million a year in taxpayer funding. Planned Parenthood and friends seem so apoplectic at this report that their quotes to media are almost funny. Do you hear that? It sounds like the wheels falling off: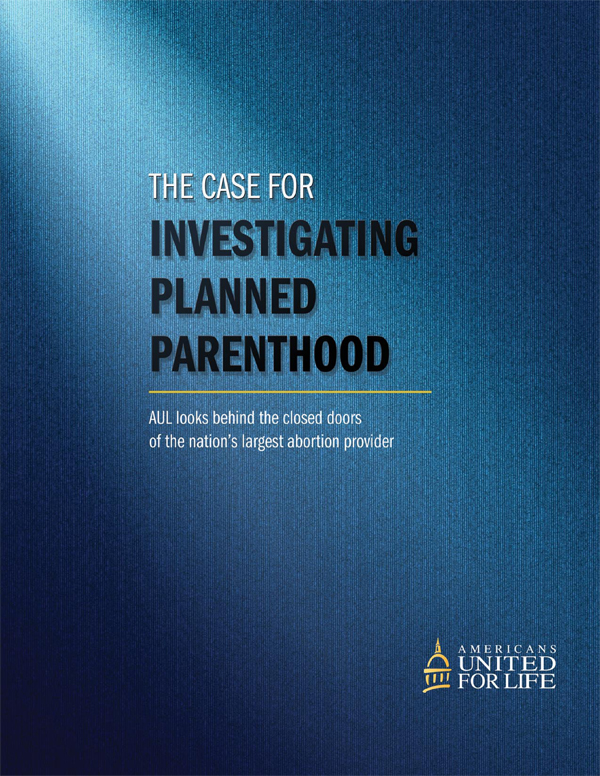 In response to request by The Washington Times for comment, Planned Parenthood said the AUL's "so-called report is a politically driven attack by an organization opposed to common forms of birth control and expanded access to birth control."
As far as I know, Americans United for Life is a pro-life organization dedicated, as it's mission says, to ending "[t]he social experiment in abortion on demand." So really, AUL is "an organization opposed to common forms of abortion and expanded access to abortion." Of course, in Planned Parenthood's eyes, abortion is really just BirthControl ULTRA(TM). Maybe that's what that quote is tacitly admitting?
Terry O'Neill, president of the National Organization for Women, praised Planned Parenthood for its "honorable and noble" endeavors.

"Planned Parenthood saves lives of teenage girls and women every day," said Ms. O'Neill. "And that's not something that this Americans United For Life, whoever they are, can say about themselves."
Unless NOW has a new medical arm that nobody knows about, they don't save the lives of teenage girls and women every day, either. And "this Americans United For Life, whoever they are" has been dueling with NOW in amicus curiae briefs before the Supreme Court for decades.
The AUL report is a treasure-trove of primary source documentation against Planned Parenthood. It will be an invaluable tool to start preparations for a Congressional investigation of Planned Parenthood and provides helpful questions in each section for lawmakers to consider. Look for us to highlight selections from the report on this blog in the coming days.
The Executive Summary of the Report:
Executive Summary
July 6, 2011
Although the Planned Parenthood Federation of America (PPFA or Planned Parenthood) advertises itself as an organization promoting health for women and families, it is the nation's largest abortion provider and has been plagued by scandal and abuse.
Furthermore, PPFA and its affiliates receive hundreds of millions of dollars in taxpayers' funds every year – a significant portion of which comes from the federal government.
PPFA often tries to underplay the significance of abortion to its business model. However, as this report details, abortion has a tremendous impact on Planned Parenthood's bottom-line. This is true to a greater degree each year, and Planned Parenthood has plans to expand its abortion business.
In this report, Americans United for Life documents the known and alleged abuses by Planned Parenthood, including:
Misuse of federal health care and family planning funds. State audit reports and admissions by former employees detail a pattern of misuse by some Planned Parenthood affiliates.
Failure to report criminal child sexual abuse. Substantial and still-developing evidence indicates that many Planned Parenthood clinics fail to report all instances of suspected abuse, and instead advise minors and their abusers on how to circumvent the mandatory reporting laws.
Failure to comply with parental involvement laws. Some Planned Parenthood affiliates exhibit a pattern and practice of violating and circumventing parental involvement laws.
Assisting those engaged in prostitution and/or sex trafficking. Some Planned Parenthood clinics have demonstrated a willingness to partner with pimps or sex traffickers to exploit young women instead of safeguarding their health and safety.
Dangerous misuse of the abortion drug RU-486. Planned Parenthood's admitted disregard for the FDA's approved protocol puts profits above women's lives and safety.
Misinformation about so-called "emergency contraception," including ella. Planned Parenthood boasts of its role in the approval of a new drug ella, yet provides considerable misinformation about the drug.
Willingness to provide women with inaccurate and misleading information. Some Planned Parenthood affiliates continually demonstrate a disregard for women's health and safety through their willingness to provide inaccurate and misleading information regarding fetal development and about abortion's inherent health risks.
Willingness to refer to substandard clinics. Some Planned Parenthood affiliates put the lives and safety of women
and girls at risk by associating with substandard abortion providers.
In addition, this report documents the efforts of Planned Parenthood and its affiliates to defeat legislation intended to protect women and families, and to overturn common-sense federal and state laws, further enriching their "bottom-line" with attorney fee awards. In order to assess the extent of the scandal and abuse at PPFA and its affiliates, a full-scale, thorough Congressional investigation is necessary. In this report, Americans United for Life poses potential questions aimed at uncovering the depth of the problems within Planned Parenthood.