Our own federal government is promoting homosexual student clubs in ALL federally funded schools nationwide. Education Secretary Anne Duncan sent a letter advising all federally funded school to establish Gay-Straight Alliance clubs for lesbian, gay, bisexual and transgender students. This letter is directed at elementary and secondary schools, Elementary schools ages 6years old? That's right folks, so don't be surprised if your child brings home some information about a "new" club at school.
Also in the news is the pending passage that wiil mandate the teaching of Gay history in California schools, where many of the nations text books are made, thus impacting all schools nationwide. Watch this Fox News video clip.
Newsbusters Reports:
Education Secretary Advises All School Districts on Gay Student Clubs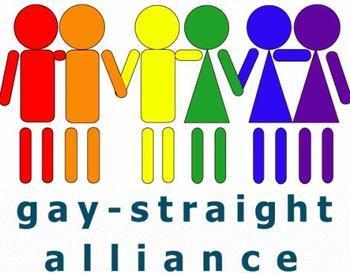 Education Secretary Arne Duncan issued a "Dear Colleagues" letter on June 14 advising federally funded schools about establishing clubs on campuses, specifically Gay-Straight Alliance clubs for lesbian, gay, bisexual and transgender students.
The letter was issued from the department's Office of Civil Rights for elementary and secondary schools and was sent to all school districts in the United States, according to Jo Ann Webb, spokesperson for the Department of Education (DOE).
Webb said the school districts – the entity that oversees elementary, middle and secondary schools in a specific district in every state – will decide what schools in the district get the guidelines.
The guidelines, according to Duncan's letter, are based on the 1984 Equal Access Act, which states that all students should have access to extra-curricular activities, including "student-initiated clubs."
"We intend for these guidelines to provide schools with the information and resources they need to help ensure that all students, including LGBT and gender nonconforming students, have a safe place to learn, meet, share experiences, and discuss matters that are important to them," the letter states.
Duncan's letter cites statistics in a 2009 survey done by the Gay Lesbian and Straight Education Network (GLSEN), a gay activist organization founded by former Obama administration's Education Department official Kevin Jennings.
"Harassment and bullying are serious problems in our schools, and lesbian, gay, bisexual, and transgender (LGBT) students are the targets of disproportionate shares of these problems," the letter states.
"Thirty-two percent of students aged 12-18 experienced verbal or physical bullying during the 2007-2008 school year; and, according to a recent survey, more than 90 percent of LGBT students in grades 6 through 12 reported being verbally harassed — and almost half reported being physically harassed — during the 2008-2009 school year."
The GLSEN survey report lists the 90 percent statistics under its "key findings." The survey report states that GLSEN gathered the data from a survey posted online through "targeted" advertising on the social networking sites Facebook and MySpace.
The report said advertising for the survey was placed on profiles of teens that "gave some indication" they were homosexual or had another sexual preference, such as bi-sexual or transgender.
"In order to broaden our reach to LGBT students who may not have had such connections, we conducted targeted advertising on the social networking sites MySpace and Facebook," the GLSEN survey report states.
"On each site, notices about the survey were shown to users between 13 and 18 years of age who gave some indication on their profile that they were lesbian, gay, bisexual, or transgender. A total of 6,906 surveys were completed online. Online survey participants were asked how they heard about the survey — 1,185 reported MySpace, 2,683 Facebook," the report added.
Duncan's letter refers to Gay-Straight Alliance or GSA clubs, which were founded by GLSEN.
In the press release issued by the organization that hired Jennings after he left the Obama administration, Jennings' homosexual activism was touted, including the fact that during his 14-year tenure heading GLSEN, Jennings helped increase the number of Gay-Straight Alliance clubs from 50 in 1995 to 4,300 when he stepped down as the head of the organization in 2008.
"Gay-Straight Alliances (GSAs) and similar student-initiated groups addressing LGBT issues can play an important role in promoting safer schools and creating more welcoming learning environments," Duncan's letter states. "Nationwide, students are forming these groups in part to combat bullying and harassment of LGBT students and to promote understanding and respect in the school community."
"Although the efforts of these groups focus primarily on the needs of LGBT students, students who have LGBT family members and friends, and students who are perceived to be LGBT, messages of respect, tolerance, and inclusion benefit all our students," the letter states. "By encouraging dialogue and providing supportive resources, these groups can help make schools safe and affirming environments for everyone
Read more: http://www.newsbusters.org/blogs/penny-starr/2011/07/08/education-secretary-advises-all-school-districts-gay-student-clubs#ixzz1RcwKrgP2