The Family Foundation:
This afternoon the Virginia Board of Health adopted new, permanent abortion center safety standards that include important building codes for all abortion centers. In June, the Board voted to exclude existing abortion centers from building standards. But today, in a whopping 13-2 bipartisan vote, it reversed that decision. Four members appointed by former Governor Tim Kaine voted for the amendment, two voted no; all nine members appointed by Governor Bob McDonnell voted for it.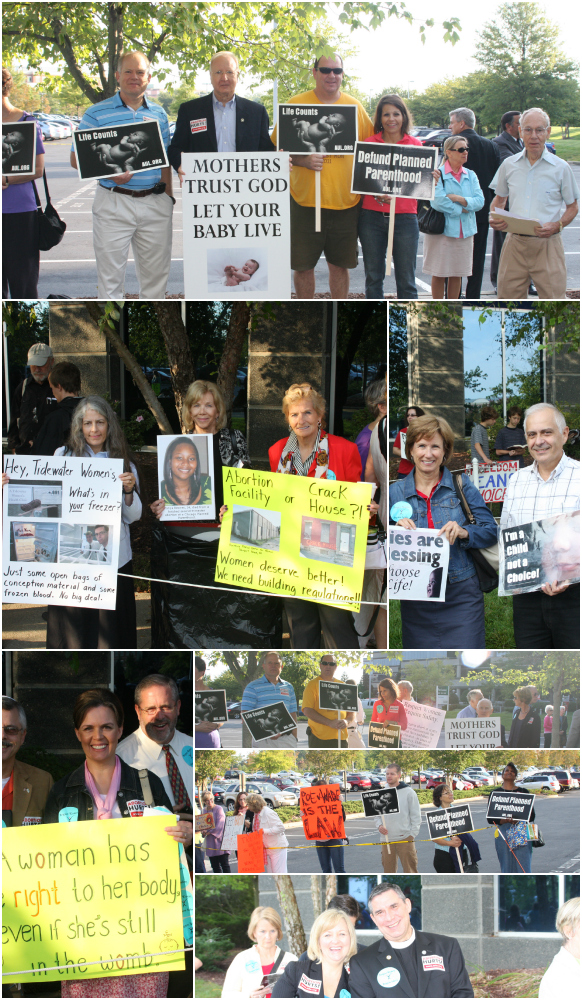 Before the final vote on the amendment to the June version of the safety standards, the Board heard and debated three substitute amendments. Each was defeated 13-2. Predictably, after the final vote, several moments of chaos erupted when pro-abortion advocates stood up and screamed, chanted and harassed Board members. They were escorted out of the building by police, who were out in force. (The Washington Post documents some of the craziness, here.)
Pro-life Virginians turned out in great numbers at the meeting in western Henrico County. That made a huge difference in the outcome. We will send a complete report of today's events later. Family Foundation President Victoria Cobb released this statement:
We are pleased that the Board wasn't fooled by the abortion industry's distractions from the real issue of abortion centers in Virginia found with bloody patient tables, unsanitized conditions and untrained staffs. An industry that has such widespread failure to protect the health of women should have no say in how it is regulated. Virginia's women are better off after today's vote.

The hysterical claims of the abortion industry that today's vote denies access to health care are simply untrue. Today's decision simply requires the industry to clean up its act. These centers can continue to offer any other service they provide even it they can't meet these reasonable guidelines. They simply have to stop performing surgery unless they meet these standards.
One of our many great allies, the Virginia Catholic Conference, issued this statement, through its Executive Director Jeff Caruso:
Today's debate and resounding vote once again affirms that it is a matter of common sense that the abortion industry be subject to reasonable regulations. Abortion is not health care because it ends lives rather than healing them, but the abortion industry must meet clear safety standards if it is allowed to operate under the guise of health care. Today's vote is a huge step forward.
The Board-approved safety standards, which replace a temporary emergency version as part of a 2011 law, now proceed to executive branch review. After that, they will be open to another comment period before the Board takes a final vote next year.