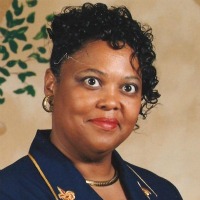 Esther Olivia Brooks
East End/Richmond Pregnancy Center
eoliviabrooks@yahoo.com
Mechanicsville, VA
Esther Olivia Brooks, a native and resident of Hanover County, was educated in the public school system graduating from Lee-Davis High School. She graduated Magna Cum Laude from J. Sargeant Reynolds with an Associate Degree in Sociology and has done coursework in related fields at Virginia Commonwealth University, University of Richmond and Oral Roberts University. Currently enrolled at Regent University, she is studying Organizational Leadership and Management.
She has been a member of Manna Christian Fellowship Church for over 26 years where she serves the church as an Elder and the Children's Pastor.
Ms. Brooks was previously employed with Blue Cross Blue Shield of Virginia for over 15 years, lastly as a Corporate Trainer. She left that position when she believed that God called her to start a preschool at her church. She founded Kingdom Kare Child Development Center and served as the Executive Director for over 22 years. Kingdom Kare grew under her leadership to include a preschool, an Academy with Kindergarten through 8th grade, after school program and a summer day camp. The Preschool and the Academy were both accredited by The International Christian Accrediting Association. In November 2011, she accepted the position of Director for The East End Pregnancy Test and Help Center.
Community involvement includes serving as a member of the Governor's Advisory Board on Child Abuse, member of Association for Supervision and Training Development, Vice President of the Board of Directors of Highland Springs Little League and Board of Directors for East End Pregnancy Test and Help Center before accepting the Director position.
As a leader in her church she has served as Superintendent of Church School, Director of Board of Education, Church Coordinator for One Church One Child, founder of A Mother's Touch, an adoption and foster care support program, a deacon and for over 12 years, an Elder.
She is a therapeutic foster parent and has had many children pass through her home. She is the mother of 3 sons, 2 of them adopted and grandmother to 3.
Elder Brooks believes that we make a difference in those who we meet by following the teachings of Jesus Christ. Every appointment is divine.