Welcomes Author and Speaker Rebecca Kiessling
Join us as we learn to effectively communicate with the media and pro-choice defenders with facts when discussing abortion and the protection of the most innocent among us. This seminar is especially valuable for elected officials, legislative aides, political activists, and pro-life advocates.
Friday, September 18, 2015
7:00 p.m. to 8:30 p.m.
Virginia Christian Alliance
8659 Staples Mill Road
Henrico, VA 23228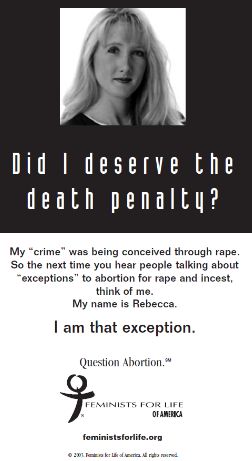 For the past 20 years Rebecca has been traveling globally speaking and advocating for the lives of the unborn and championing adoption as an alternative to abortion.
Rebecca is the national spokeswoman for Personhood USA and Director of Save The 1. She currently serves on the Advisory Board of Crossroads Pregnancy Center.
Rebecca is also the co-founder and board member of Hope After Rape Conception whose goal is to support and to protect rape survivor mothers and their children from the rapist having parental rights.
Rebecca has appeared on CBN, Good Morning America, CNN, CBS News, EWTN, Catholic TV as a pro-life attorney and as a child conceived in rape.
Her story has been featured in Glamour and Marie Claire magazines and on the program Extra. Rebecca's story was featured in the Citizen United film, "The Gift of Life with Gov. Mike Huckabee".
For more information visit her website at rebeccakiessling.com.For an introduction to Save The 1 see video
https://www.youtube.com/watch?v=c6HO0oP6fdU
For more videos featuring Rebecca, go to YouTube.com keyword search Rebecca Kiessling.
College and University students, parents, and adults – Join the Center for Bio-Ethical Reform Virginia at the third annual Pro-Life Bootcamp at Twin Lakes State Park in Green Bay, VA (near Farmville). Learn to expertly answer the tough questions and prepare to win hearts, change minds, and save lives. Event begins September 18 @ 6:00 p.m. and concludes September 20 @ 3:00 p.m.
For more information, go to www.NicoleWCooley.com/pro-life_bootcamp or www.Facebook.com/CBRVirginia