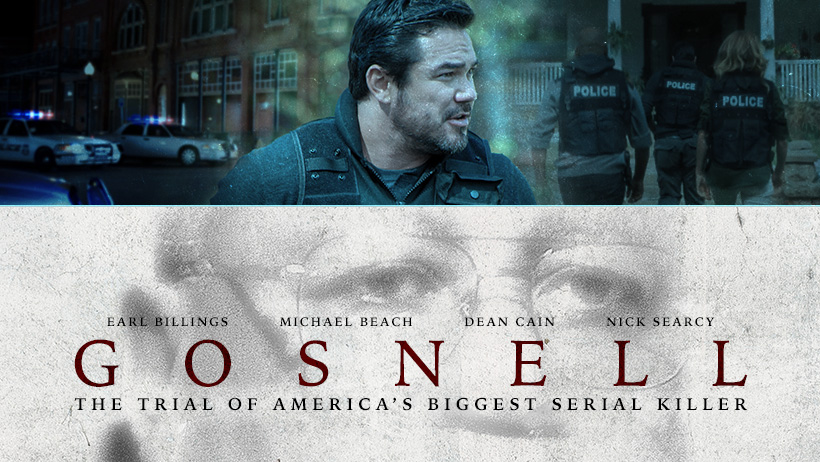 DVD is top seller in US Weeks Before Release Date;
Set to release on DVD February 5th, the film Gosnell is already a bestseller
January 16, 2019 (Los Angeles, CA) – One of the most controversial movies of recent times – Gosnell: The Trial of America's Biggest Serial Killer has made history with record-breaking DVD sales on Amazon.
The film is the #1 Best Seller in all DVDs, overtaking big studio-backed films such as Bohemian Rhapsody and A Star is Born which have multi million dollar marketing campaigns.
Gosnell: The Trial of America's Biggest Serial Killer stars Dean Cain (Lois & Clark) and is directed by veteran actor Nick Searcy (The Shape of Water, Justified, Three Billboards Outside Ebbing Missouri) and is the shocking true story of the investigation and trial of abortion doctor Kermit Gosnell – his 30 year killing spree and the political and media establishment that tried to cover it up. The trial became hugely controversial after it went mostly uncovered amid allegations that the liberal media establishment was censoring a story that shone a negative light on abortion.
ABC news described Gosnell as "America's most prolific serial killer". It is thought he murdered hundreds whilst running his clinic in Philadelphia. He is currently serving three life sentences for the murders of three children and killing a female patient.
Producer Phelim McAleer said he was elated but not surprised that the Gosnell movie is proving so popular.
"People really want to learn about Gosnell. They want to hear the truth. This story has been covered up since the beginning but thanks to the movie the coverup is ending. It is the Number 1 movie in the US today."
The film was released theatrically in nearly 800 theaters in October and grossed $3.6M, despite a media blackout that saw the mainstream media refuse to review it sparking further claims of a cover-up of the story. NPR and The New York Times also refused to carry advertising for the film and Facebook blocked over 50 advertisements on their platform.
McAleer said the DVD sales showed just how Hollywood and the mainstream media were losing the fight to keep the story out of the headlines.
"This is a great movie and tells an amazing American story. There is a real hunger for that."
Gosnell was funded via a record-breaking crowdfunding campaign, which saw it raise over $2.3m from almost 30,000 supporters in 45 days. Journalist Phelim McAleer partnered with author and filmmaker Ann McElhinney to write the book Gosnell: The Untold Story of America's Most Prolific Serial Killer; a New York Times best seller – also ignored by the mainstream press. Together they brought on Magdalena Segieda and John Sullivan to produce the film.
For more information on the film go to www.gosnellmovie.com or email press@gosnellmovie.com
To pre-order a copy of the film, https://amzn.to/2Ma2zNI
Trailer: www.youtube.com/watch?time_continue=12&v=ttwkr8MM9Rk
Social Media: Facebook, Twitter, Instagram
Website: http://www.gosnellmovie.com/
Poster:http://gosnellmovie.com/downloads/GOSNELL_27x40_KeyArt_MRG_RGB_V3.jpg
Film Banner:http://gosnellmovie.com/downloads/Gosnell_Twitter_Banner_1500x500.jpg
DVD Details
Digital HD & On Demand Release: January 22, 2019
DVD: February 5, 2019
DVD SRP: $14.99
UPC Number: 843501030158
Language: English
Run Time: 93 minutes
U.S. Rating: PG-13
Studio: GVN Releasing
For more information on the film go to www.gosnellmovie.com or email press@gosnellmovie.com