Summary of Incident in Chesterfield County School
On the last day of summer school in Chesterfield County, a teacher allowed students to select a prize from a treasure chest. Present in the treasure chests were fake dollar bills, play money if you will. In place of the national motto, "In God We Trust" the play money was inscribed with "In School We Trust." Parents of one of the students who took the money home were incredulous. Was the school asserting that one's trust in God should be supplanted by trusting in school? Was the altering of the National Motto to be taken lightly?
Upon receiving this information from the parent, I suggested they call their school board member. I wrote a letter to Dr. Marcus Newsome, the Superintendent of Schools in Chesterfield explaining what had happened and asking him to look into it and to give us assurances that no more of this play money would be distributed.
A few days later, I received a phone call from a volunteer in Dr. Newsome's office telling me that he was relaying information to me from Tim Bullis who is in charge of Community Relations for Chesterfield Public Schools who had investigated the incident. They said that the money was actually the front and back of a notepad that the child selected from a treasure chest as a reward. They alleged that the items in the treasure chest were donated by the community and that there were no others. Case closed, no worries according to the volunteer. I was not comfortable with what I had been told or how it had been relayed. Having a volunteer call me did not speak to this issue being given much credence and I certainly did not feel reassured that there was not more of this money floating around and that it would not reappear in the schools again.
When I googled the name of the company that produced the "In School We Trust" money, I found that the money was sold in bundles of 1,200 and the website appeared to cater primarily to educators which made the notion of the money being donated by someone in the community fairly implausible. I sent Dr. Newsome another email explaining my dissatisfaction with the volunteer's explanation of the issue. I told him that the parent said there was no notepad, just play money and that these bills were sold in bundles of 1,200 begging the question, "Where are the other 1,198?" I asked if he would send a memo to teachers telling them that these bills were inappropriate and telling them to be on the lookout for them. Below is a copy of his response:
Good Afternoon Ms. Hanger,
Thank you again for bringing your concerns to me. Mr. Bullis and Mr. Witthoefft have finished collecting information on this matter. Below is a summary of their investigation.
Wells Elementary received a limited number of note pads to give away.
We have not been able to determine who they came from; we are not aware of what other schools might have received them.
The notepads are from a company that makes educational toys for children.
The notepad's cover is the front of a dollar bill. The back cover is the back of a dollar bill – with the word "God" removed and the word "School" inserted. I believe this is a marketing play on the part of a company that makes educational toys for children.
The donation made it into a teacher's treasure box, from which students who are recognized for good behavior are allowed to choose a prize.
The student in question selected this particular prize himself.
The notepad was not and is not being circulated to all students in the school or in the school division.
The notepad is not part of the regular instructional routine.
Again, we do not know if any other schools have received this as a donation. Our schools are diligent in monitoring all information going out to children, and we will review our processes regarding the distribution of materials. A quick Google of play money yields many different forms and appearances. I apologize on behalf of the school division for this unfortunate incident. I wish that I could guarantee you that materials going out of thousands of classrooms in our school division would be appropriate 100% of the time; but I cannot. However, I can guarantee you that I will continue to set high expectations for all employees to respect the religious rights of all children and families.
I appreciate you kind support and continued commitment to pray of our children.
Peace and Blessing,
Marcus Newsome
There are obvious inconsistencies in his response. The parents involved became so disenchanted that they have removed their children form the public school and have placed them in a Christian school at great personal sacrifice.
I have spoken with Delegate Bob Marshall about this incident. A few years ago he authored a bill requiring that public schools in Virginia post the National Motto, In God We Trust. This incident highlighted the fact that although there was compliance initially, many schools have not continued to post the motto as required. Delegate Marshall said that he is going to compose a letter which he will send to each of school Superintendents in Virginia reminding them of the requirement.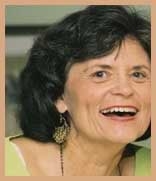 Elaine Hanger