Linda Wall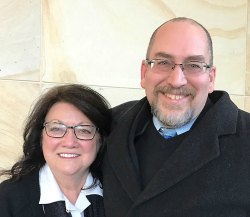 Another Virginian (must read the first here) under Christian persecution in the Lisa Miller Case is Philip Zodhiates.
I had never met him until last weekend when I had lunch with him and his wife. As I sat across from them in the restaurant, it did not take long to determine these were "real Christians" – those who practice their faith outside of the sanctuary.
For this, Philip has been sentenced to two concurrent 3-year prison sentences.
Despite the fact that the United States Constitution guarantees the freedom to exercise one's religion, Philip is facing imprisonment for giving a mom and her daughter a ride from Lynchburg, Virginia to Buffalo, New York.
He is charged with aiding and abetting in international kidnapping for helping a fellow sister in the Lord with a ride.
Philip Zodhiates is presently out on bail awaiting an appeals court hearing on April 9.
A postcard campaign has been launched in an effort to bring this injustice to the attention of President Trump, Vice President Pence and Attorney General Sessions. Will you click on the following link, download and mail the three postcards? Print pages 1 and 2 front to back on cardstock. https://tinyurl.com/yaz54p5k
This is the beginning of setting the record straight about the violation of Constitutional rights in the lives of Christians in America in the Lisa Miller Case. Those who practice sexual perversion in this country want to make the Lisa Miller Case the equivalent of Roe vs. Wade.
Their goal is to set a precedent for the entire country against Christians who live their faith and obey God and His Word. Pray against the principalities that have America in bondage to gay, lesbian, bisexual and transgender behaviors.
Philip Zodhiates is facing legal fees over $350,000. Would you consider a donation toward this debt? Donate here: https://419fund.com/projects/philip-zodhiates/
About 419 Fund
The 419 Fund is a 501(c)3 non-profit crowdfunding site that provides an opportunity for Christians to support one another for legal, medical, scholarship, missions and more. 419 Fund was conceived and created to help Christians lift and ease fellow Christians' financial burdens. 419 Fund approves opportunities for funding including legal fees, court costs, attorney's fees, fines, individual medical needs, supporting pro-life organizations, and providing aid after natural disasters. Fundraising can also be used to generate scholarships for deserving college students, or to gain financial support for missions and missionaries. 419 Fund is a non-profit organized under the laws of the Commonwealth of Virginia.
For more information on the 419 Fund visit them online: https://www.419fund.com/