This manual is an Apologetic, Autobiographical, Technical, and Philosophical blend to give the reader an informative, practical, Instructive, and entertaining learning experience. It recounts some life experiences on the mission field that few have rarely encountered.
Author Rogowski suggests that in our church mission efforts, we often underrate the effectiveness of demonstrating the Gospel through practical helps as a viable means of evangelism. He maintains that the unique ministry of community development is a powerful evangelism tool linked with the mission to help the poor escape their culture of poverty. He presents a beginners look at the first principles necessary to be effective in motivating and facilitating poor communities to become more self-reliant while avoiding the snares of dependency.
This is a must read for those in service agency and ministry oriented situations with groups of any type. It is a valuable tool for those considering ­mission outreach. ORDER HERE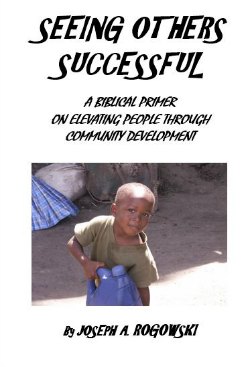 Mr. Rogowski is a native of Buffalo, New York. He and Ursula of Germany were married in 1963. While enjoying a career as a pharmacist and minor partner in a regional chain of pharmacies in Western New York, Mr. Rogowski experienced a religious conversion in 1977. He resigned his positions in the company and left with Ursula and their two children for the mission field with Youth with a Mission in 1981. They served in the Asia and the Pacific region for approximately ten years.
Mr. Rogowski developed a seminar on community development that eventually launched him in ministry into fourteen different nations over two decades. He earned a Master's degree in Public Policy at Regent University in Virginia Beach, Virginia in 1999 and taught a Master's level course on Third World Politics at the International University in Vienna, Austria in 2001.
Joseph and Ursula served on Mercy Ships in Ghana in 2006 and in Liberia in 2008. During free time, Mr. Rogowski presented seminars on community development to church and interested groups in the local communities. He continues to promote the principles of helping the poor through community development and of a Biblical worldview and culture.
He and Ursula have three grandchildren and reside in suburban Richmond, Virginia. They are directors of the small-project consulting, non-profit, charitable 501 (c) (3) corporation, Arise Development Services.
CONTACT: E-mail: heyrogo@verizon.net Web site: Arise Development Services