Eight Stops in Virginia! Check the tour schedule below for a city near you!
America's founding principles, guided by Biblical values, are under attack like never before in its history. The responsibility is The Church to "find its voice" and preserve our Nation. 
THE AMERICAN RESTORATION TOUR is a multi-state tour with Chad Connelly of Faith Wins joining forces with David Barton of WallBuilders, Lindsey Foundation, and many others to bring a message of Hope, Renewal, and Revival to America's Leading Cities and Churches. It continues to be a great "tag-team" effort featuring America's premier Christian historian, David, and one of America's foremost authorities on the faith vote, Chad.
We hope to see you soon at one of our upcoming meetings. Check our tour schedule below for a city near you!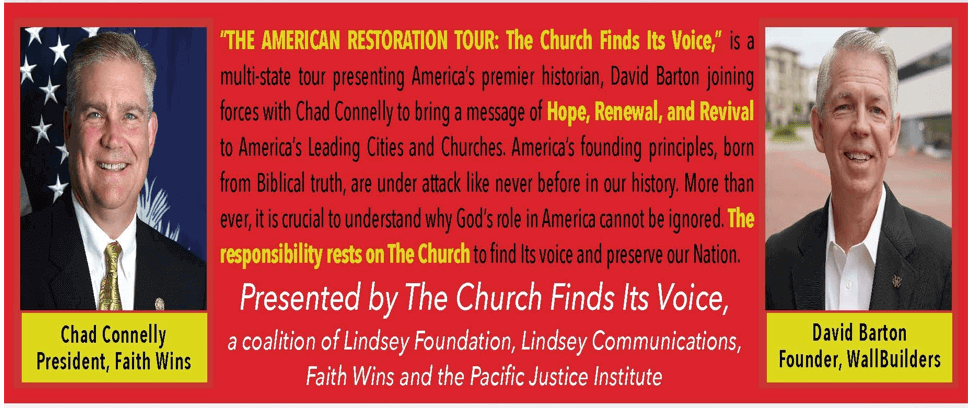 The American Restoration Tour Events page is HERE
Mon, May 9 at 8:30AM *Breakfast Provided, Must Register in Advance*
8319 Lee Davis Road, Mechanicsville, VA 23111
David Barton, Chad Connelly, Pastor Erik Hastings & Evangelist Byron Foxx
Mon, May 9 at 12:00 PM *Lunch Provided, Must Register in Advance*
221 Hampton Hwy., Yorktown, VA 23693
David Barton, Chad Connelly, Pastor Bob Monteith & Evangelist Byron Foxx
Great Hope Baptist Church
1401 S. Battlefield Blvd., Chesapeake, VA 23322
David Barton, Chad Connelly, Pastor John Godfrey & Evangelist Byron Foxx
3523 Spotswood Trail, Penn Laird, VA 22846
David Barton, Chad Connelly, Pastor Richard Forsythe & Evangelist Byron Foxx
14510 Spriggs Road, Woodbridge, VA 22193
David Barton, Chad Connelly, Pastor Mark Carpenter & Evangelist Byron Foxx
Wed, May 11 at 8:30 AM *Breakfast Provided, Must Register in Advance*
15 Keystone Lane, Berryville, VA 22611
David Barton, Chad Connelly, Pastor Doug Wright & Evangelist Byron Foxx
Wed, May 11 at 12:00PM *Lunch Provided, Must Register in Advance*
Fellowship Baptist Church
725 Gate Road (Route 680), Madison, VA 22727
David Barton, Chad Connelly, Pastor Dale Freeman & Evangelist Byron Foxx
300 White Oak Road, Fredericksburg, VA 22405
David Barton, Chad Connelly, Pastor Mike Reid & Evangelist Byron Foxx