—Brad Huddleston
Last month I was much honored to speak for the third year in a row at the Iron Sharpens Iron National Men's Equipping Conference in Richmond, VA. The event was sponsored by Noble Warriors, led by Mike Young. It was incredible to see approximately 1200 men gather to worship and hear the Word of God preached with authority. It was three years ago that Greene Hollowell convinced Mike to give me a chance. I want to thank Greene for believing in me and Mike for taking that chance.
I have not seen a stirring in men like this in many years. My prayer, like yours, is that the Holy Spirit will continue to increase His activity among Christian men throughout the United States. As you know, we are in desperate need of revival.
Once again I walked away very encouraged. My breakout session was filled with men who were hungry to be challenged by God's Word. After my session, I was surrounded by men who were honest, transparent and unashamed to admit they need to get their digital lifestyles under control. They also responded positively to my challenge to be the man of the house and take charge of the digital excesses that nearly all of us struggle with. Our very intimacy with God is literally being threatened by screens.
I have two resources to bring to your attention.
Cornerstone Christian Church will be hosting two Dark Side of Technology Seminars on Sunday, April 27, 2014. These seminars are for parents, grandparents, and youth (ages 11+). Not only will the dark side of technology be addressed, but the positive uses as well. Here are more details:
Times: 2:30 pm & 3:45 pm
Where: 9400 Gayton Road, Richmond
Cost: The seminars are free but you must register here.
There is also a promotional video that you're welcome to share:
I'm in the middle of writing a follow up book to The Dark Side of Technology. This book will be titled Digital Cocaine: A Journey Toward iBalance. The issues surrounding the tsunami of technology that is sweeping over us shows no signs of slowing down. There is mass brain-rewiring taking place all around the world. This also is having a devastating effect on the spiritual lives on countless millions (possibly billions) around the world.
I will leave you with one additional resource for now. I was privileged to speak on this subject at the 4/14 Movement in Minneapolis. You're welcome to show this to your group. Dark Side of Technology Seminar Video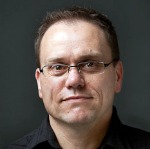 Brad Huddleston, Virginia Christian Alliance Adisory Board member, has degrees in Computer Science and Bible. He is an author, speaker, and Evangelist. He and his wife Beth travel the globe ministering in conferences, churches, schools, and retreats. Brad often appears on radio and television. His book can be ordered at www.bradhuddleston.com and www.darksideoftechnology.com, and he can be reached at brad@bradhuddleston.com..