"The Supreme Court & Same-Sex Marriage: What We Can Learn About Constitutional Rights from Roe v. Wade to Today," with Dr. Kevin Walsh (Constitutional Law Prof at the University of Richmond & Former Law Clerk for Supreme Court Justice Antonin Scalia) Date: September 13, 2013, Time: 07:00PM til 09:00PM
Location: Hosted by Stony Point Church, 2330 Buford Road, Bon Air, VA 23235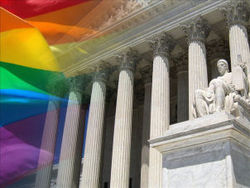 The Supreme Court and its understanding of constitutional rights regarding a number of issues have not always remained unchanged in the history of our nation.
How has the High Court's treatment of a constitutional claim for a right to same-sex marriage been shaped by its handling of a constitutional claim for a right to abortion? How might the Court's understanding be further shaped, and what might we as a society stand to learn, regarding such constitutional claims?
Constitutional law professor Kevin C. Walsh of the University of Richmond School of Law will address these questions as part of a broader explanation of the relationship between morality and law.

Download Flyer