WASHINGTON – (WND) James Dobson, founder of Focus on the Family and Family Talk Radio, a harsh critic of President Obama and an opponent in court, on Thursday described him as the "abortion president" during an address at the National Day of Prayer.
Dobson, whose organization recently won a court fight against Obama over a mandate in Obamacare that would have required his ministry to pay for abortion pills, has not been shy about challenging the president on his abortion agenda.
At one point during the fight over the imposition of the abortion mandate, he said to the president: "Come and get me. I will not yield to your wicked regulations."
The fact that Obama is more supportive of abortion than any other chief executive in the U.S. was touted by none other than Planned Parenthood.
n a report on his 2013 keynote address to a gala by Planned Parenthood, the largest player in the nation's abortion industry, Cecile Richards, chief of the organization, said: "President Obama has done more than any president in history for women's health and rights. He understands that access to birth control and preventive health care are economic issues for women and their families.
"We fought alongside him to ensure that women's health access was expanded in the landmark Affordable Care Act, and now we have to fight hard to ensure that the full promise of health care reform is realized for millions of women."
At the prayer day event, where he was one of several speakers, Dobson described how Obama said he would become the abortion president.
Read the rest on WND HERE and here his speech below
….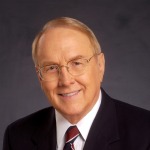 James Dobson, Ph.D.

Founder of Focus on the Family
Dr. James Dobson is married to Shirley and has two grown children. He lives in Colorado, home of Focus on the Family which he founded and led.