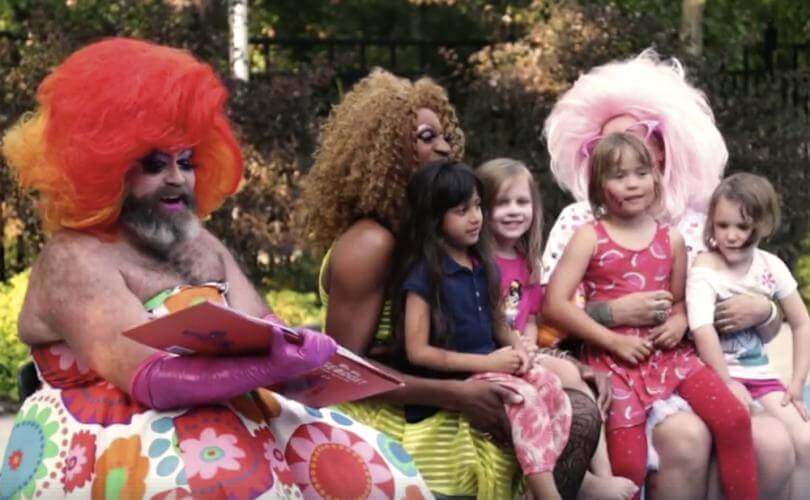 Calvin Freiburger
SPARKS, Nevada, July 26, 2019 (LifeSiteNews) – The mayor of a town in Nevada is speaking out against a local library's decision to host a Drag Queen Story Hour event, detailing his unsuccessful efforts to block the event.
When Sparks Mayor Ron Smith caught wind that Washoe County Public Library would be hosting one of the events – in which adult crossdressers read to children between the ages of three and eight, hold question-and-answer sessions, and pose for photos – he was outraged, the Reno Gazette Journal reports.
"It doesn't make any sense to me," he said. "It is absolutely ridiculous. Why would you have transgender people talking to kids?" Smith said he was concerned about reports of how drag queens have conducted themselves in similar events across the country, and insufficient background checks leading to children being placed near convicted sex offenders. Recently, an Oregon library deleted pictures of children lying on top of a drag queen.
So Smith contacted Washoe County Library Director Jeff Scott and County Commissioner Vaughn Hartung in hopes of canceling the event, but "they told me there is nothing they can do," he said.
"It is storytime like any other story time," Scott claimed in response. "It is ridiculous and offensive to the LGBTQ community to say that anyone is going to molest children."
The Nevada Family Alliance disagrees. "Do you think it is appropriate for county tax dollars to be used on a 'program' that exposes kids to such a provocative lifestyle?" the group asked, noting that the event dovetails with the library's support for the broader LGBT agenda. "This story time is to compliment the library participating in the Reno Gay Pride Parade with their Cart Drill Team."
Such events around the world have drawn controversy for the individuals they've put in close proximity to children, such as performers behind X-rated skits involving children's characters, and for attracting radical transgender protesters. Pro-family advocates also warn that the trend is dangerous for its true goal: indoctrinating children into accepting gender fluidity.
The San Francisco-based Drag Queen Story Hour program describes its express purpose as capturing the "imagination and play of the gender fluidity of childhood" and giving children "unabashedly queer role models"; while Louisiana drag queen Dylan Pontiff admits the events are about "the grooming of the next generation."
Despite the mayor's efforts, the event took place on July 20, and drew "hundreds" of attendees, KOLO reports. 
While many framed the event positively, some members of the community expressed concern. "That sends chills up my spine, I don't believe that should be what we are subjecting our kids to," Loy Mach said. A more liberal parent, Nichole Lander, said she brought her daughter to see the drag queens because she was "kind of at an impressionable age."