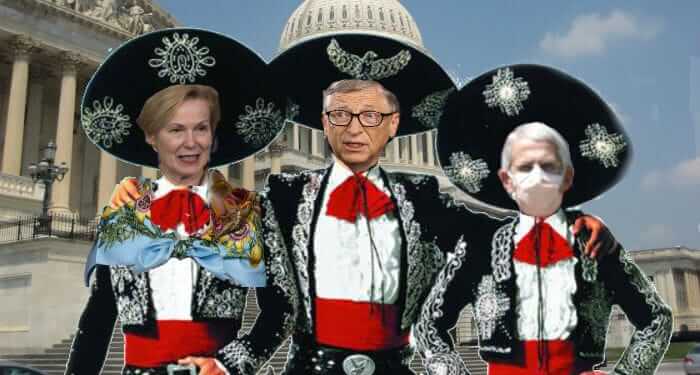 Judi McLeod | Canada Free Press
Scarf Lady' Dr. Deborah Birx and Mask Man Dr. Anthony Fauci are not only close friends with Depopulation King Bill Gates, they are now using their prominence on the Coronavirus White House Task Force as Bill Gates Vaccination shills.
At Friday's announcement of 'Operation Warp Speed' in the White House Rose Garden, Fauci, who never wore one before, turned up in a ginormous face mask that radio talk show giant Rush Limbaugh described as "the biggest one I ever saw in my life"; 'Scarf Lady' Birx this time wearing her signature scarf "that came down to her knees".
Like a creature straight out of the 'Twilight Zone', Fauci standing to the left of President Trump showed up in every single camera shot.
What was the subliminal message they were marketing?
As Canada Free Press noted in a Saturday story, headlined 'Operation Warp Speed'? You Must Be Kidding Mr. President', both Fauci and Birx could have been human billboards for something called 'The United Vaccine Front'.
CONTINUE TO CANADA FREE PRESS FOR FULL ARTICLE