Rally Held at Capital in Favor of Personhood bill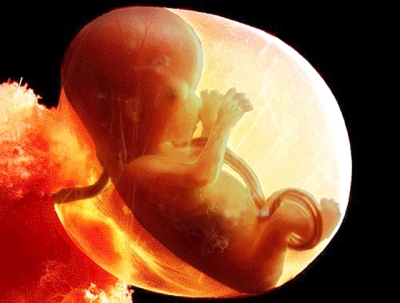 Specail ALERT at end of this article, please help fight for the rights of the unborn person! See how a baby developes, heart chambers forming and heart beating only weeks after conception.
On the measure's first day in the Senate after it cleared the House on Tuesday, abortion opponents rallied at the state Capitol to support House Bill 1, which would define life as beginning at conception.
Nearly 100 people gathered Wednesday at Capitol Square's Bell Tower to advocate for the measure, wearing yellow scarves and carrying yellow balloons, along with "Support HB1" posters that depicted a baby.
The bill would impart the rights of "personhood" to a human embryo at the moment of conception, creating a civil cause of action for the wrongful death of an unborn child killed by the negligent or criminal act of a third party.
The bill's patron, Del. Robert G. Marshall, R-Prince William, called on Lt. Gov. Bill Bolling, who breaks ties in the evenly split Senate, to take a position on the measure.
"If it comes to a tie vote, lieutenant governor, we need to know how you're going to vote," he said.
Asked Tuesday if he had a position on the bill yet, Bolling replied: "I do not."
Marshall and the bill's architect, Rita Dunaway, an attorney with the Rutherford Institute, also called on Gov. Bob McDonnell to make his position clear.
Response to Schapiro's article "One Party, Many Opinions"
In a news article in Sunday's Times Dispatch by Jeff Schapiro, Governor McDonnell's spokesperson, Tucker Martin, stated that the Governor has "significant constitutional concerns" about Delegate Bob Marshall's House Bill 1, a bill that recognizes human life as beginning at conception. Schapiro also points out, however, that an identical Missouri law withstood United States Supreme Court scrutiny back in 1989.
Either the Governor is being untruthful about his reasons for failing to publicly support this pro-life legislation, or he has identified "constitutional concerns" that 5 Supreme Court Justices and their clerks were unable to detect. Whatever the case, Governor McDonnell's position is an extreme disappointment to the pro-life movement in Virginia. How can a "pro-life" Governor be so unable to muster even the elementary level of support for the unborn that has been demonstrated by the institution (Supreme Court) that gave us Roe v. Wade?
Senator Stanley's claim that the pro-life movement's expectations in this are somehow unrealistic is similarly preposterous. Virginia elected a majority of pro-life representatives to both chambers of the General Assembly last November. Under those circumstances, there is surely nothing unrealistic about expecting our legislature to pass the same, tried and true "life-at-conception" law that has been in effect in another state for over 25 years. Why should less be expected in Virginia, a state being lead by a pro-life Governor, a pro-life Lieutenant Governor, and a pro-life Attorney General?
It is time for those entrusted with representing our interests to show some leadership, moral courage, and integrity. Great leaders demonstrate more concern for their constituents' desires – and for doing what is right – than for grooming themselves for the next political office they hope to achieve. We know Cuccinelli supports HB 1, but where do McDonnell and Bolling stand?
Diane Pyle, Virginia Christian Alliance, Virginia Beach, VA
Frances Bouton, Hampton Roads for Life, Hampton, VA
Diana DeBoe, Virginia Coalition for Life, Virginia Beach, VA
Louantha Kerr, Save the Babies, Portsmouth, VA
Nicole W. Cooley, VA Director of Pro-Life On Campus, Church Hill, VA
Rita Dunaway The Rutherford Institute, Charlottesville, VA
Janet Welty Valley Family Forum Harrisonburg, VA
Terry Beatley No Excuse Ministry Fredericksburg, VA
Donna Moore Rappahannock Region Family Forum Fredericksburg, VA 22407
Governor should be supporting HB1

Letter to the Editor of the Richmond Times-Dispatch by Elaine Hanger
I smell a rat. In a recent news article that discussed HB1, the governor's spokesperson stated that the governor "supports efforts to protect innocent human life that are consistent with applicable court rulings and state and federal law. He has significant concerns that this proposed legislation has major constitutional issues and may not withstand court scrutiny." The point is that it has already passed court scrutiny, and not just any court, but the Supreme Court. HB1 is substantively identical to an existing Missouri law that the Supreme Court left standing in Webster v. Reproductive Health Services in 1989.
This bill is important legislation because it would allow a parent to assert a civil cause of action for the wrongful death of a child. It also establishes that the life of that child begins at conception. Whether the governor's hesitancy stems from naiveté or from political maneuvering, it is unacceptable for a pro-life governor not to support HB1.
---
Elaine Hanger.
Chesterfield.
Personhood Measure: What's it mean?
There is — to put it mildly — a slight difference of opinion about the scope of HB1, the personhood amendment sponsored by Del. Bob Marshall. Abortion-rights advocates call it nothing less than an attempt to outlaw all abortions, even in cases of rape and incest. Republican supporters of the measure say all it does is permit civil lawsuits against individuals who harm a fetus either through negligence or by assaulting the mother.
Who is right?
The bill does stipulate that life begins at conception and confers on unborn children "at every stage of development all the rights, privileges, and immunities available to other persons, citizens, and residents of this Commonwealth." That language may create, to use a cliché popular in Capitol Square, a camel's nose under the tent.
But — and this is a big but — the rest of that sentence reads: "… subject only to the Constitution of the United States and decisional interpretations thereof by the United States Supreme Court and specific provisions to the contrary in the statutes and constitution of this Commonwealth."
In other words: Nothing in the bill supersedes any existing law.
Granted, if the personhood measure becomes law a rogue commonwealth's attorney might try to use it as a lever to overturn the entire edifice of abortion rights, including Roe v. Wade. But any such attempt would quickly collapse unless the courts themselves, including the Supreme Court, are willing to overturn Roe v. Wade.
And if that is the case, then HB1 is the last thing abortion-rights advocates need worry about.
"Personhood" :
HB 1 – "Right to Life"
by Don Blake, Chairman, Virginia Christian Alliance
There has been a lot of "chatter" in the news and on the internet about Virginia Delegate Bob Marshall's House Bill 1 (HB 1).· The bill passed the Virginia House of Delegates (under the leadership of Speaker Bill Howell) two to one, for the second year in a row.
One would think that the HB 1 would pass the Virginia Senate by a vote or two, but certainly with a 20-20 vote and Lieutenant Governor Bolling voting the tie breaker.· Not so fast.
First, back to the "chatter".· Newspaper, TV news and internet "news" is full of outright lies about what HB 1 "may" or "will" do.· Some would say "lies" is "too strong" – no the "chatter" and "news"against HB 1 are all lies.· It is like the old song "Who are you going to believe " ME ? or your lying eyes"?
House Bill 1 is almost verbatim of the Missouri Law of 1986, that was tested by the U. S. Supreme Court in 1989.· Since 1986, none of the "issues" has been an "issue".· So who are some of the liars?· Democratic Delegate Eileen Filler-Corn of Fairfax indicated (T.V. 8) the bill would restrict access to birth control.· Other Democratic General Assembly members have made false "issue" statements.· See Delegate Jennifer McClellan on T.V. CBS 6 News, February 15th.
T.V.· WTOP stated the "bill would cloud when abortion would be legal and possibly outlaw some forms of birth control."· Where do they get this stuff?· WTOP also quoted Democratic Senator Barbara Favola of Arlington, "Why we want to repeal the 20th Century, I don't know."· Favola calls the bill a "very extreme agenda" that a group of people are trying to force on an entire state.
A group called "Progress VA" says "this war on women has got to stop".· The "pro-abortion" movement does not want to be confused by the facts. ·The facts are that none of the suspected "issues" have been found to be valid since 1986.
Has anyone noticed that the Oklahoma Senate has passed a similar bill also modeled after the Missouri statute?· The bill passed 34 to 8 and is expected to easily pass the House and be signed by Governor Mary Fallin.· On February 17, 2012, the Alabama Supreme Court issued a landmark wrongful death opinion.· It was a unanimous decision.· The opinion is 46 pages long and can be downloaded through Liberty Council.
Will HB 1 pass the Virginia Senate?· Perhaps only Governor McDonnell and Lt. Governor Bolling know, or maybe Senator Steve Martin of Chesterfield knows, since he chairs the Senate Committee that will hear the bill.· Maybe Senator Bill Stanley knows.· Who knows?· None of these men are championing HB 1.· Will it pass the committee?· Is a Republican going to be in the "restroom" at voting time?· If it comes out of Committee, will all 20 Republicans vote for HB 1?· Will one of the 20 be in the "restroom"?· If it passes 20 – 20, will Lt. Gov. Bolling vote for the bill?· If HB 1 makes it to the Governor's desk, will he sign it?
Who knows?· Maybe the Family Foundation knows and that's why they are not "pushing" this HB 1 bill and declined an invitation to be a part of the HB 1 Rally at the Capitol on February 15, 2012.
Who knows?· Perhaps the Governor knows and that's why he declined to meet with HB 1 supporters and attend the Rally.
Who knows?· Perhaps the Lt. Governor knows, and that's why he declined to commit when meeting with three HB 1 supporters only a few weeks ago.· Perhaps that's why he did not attend the HB 1 rally on the 15th.· Who knows?· Somebody knows!
It's interesting that of our "major" Republican leaders, only Speaker Bill Howell and Attorney General Ken Cuccinelli "know" where they stand on HB 1.· The speaker lead the overwhelming vote in the House and the Attorney General made a strong statement of support for HB 1 at the HB 1 Rally.· Ken Cuccinelli boldly stated the bill was lawful and approved by the highest court in the land.· He encouraged Rally attendees to push their senators to vote for HB 1.
It's also interesting to note that the Attorney General contradicted the Governor's comments on HB 1 in front of 100 plus people at the Family Foundation meeting the same night of the Rally (which the Family Foundation did not support).· Governor McDonnell stated that he had not paid too much attention to HB 1 when asked if he would sign the bill if it "did" get to him.· The Governor said that if the bill came to him, he would "have his lawyers look at the bill".· Literally moments after the governor left the meeting, Ken Cuccinelli spoke directly to the lawfulness of HB 1.· The Attorney General could not have been more clear in his support of HB 1 and the legality of the bill.· Does the Governor have a legal authority higher than the Attorney General?· Who knows?
What's going to happen to HB 1?
Will it pass committee?
Will it pass the Senate?
Will Gov. McDonnell sign it?
WHO KNOWS?
Don Blake, Chairman
Virginia Christian Alliance
February 20, 2012
Call To Action!
Pro-life Virginians need to take action immediately to assure that the opportunity is not missed to codify that life begins at conception and that unborn children are endowed with fundamental rights. This is a key component of HB1 which allows parents to assert a civil cause of action for the wrongful death of an unborn child. This legislation has passed the House of Delegates and will soon be before the Senate Education and Health Committee.
This committee is composed of eight Republicans and seven Democrats. All eight Republicans must vote yes in order for this bill to make it to the floor of the Senate. Please contact these eight senators and urge them to support HB1.
Senator Steve Martin district11@senate.virginia.gov
Senator Richard Black district13@senate.virginia.gov
Senator Harry Blevins district14@senate.virginia.gov
Senator Bill Carrico district40@senate.virginia.gov
Senator Thomas Garrett district22@senate.virginia.gov
Senator Stephen Newman district23@senate.virginia.gov
Senator Ralph Smith district19@senate.virginia.gov
Senator Jeffrey McWaters district08@senate.virginia.gov
The governor needs to hear from us, the supporters of HB1
Please call his office to let his staff know that you want the governor to sign HB1 when it gets to his desk.
Governor McDonnell 804-786-2211
Or click here to contact his office via e-mail.