The Center for Bio-Ethical Reform is partnering with VCA to bring the truth about abortion to college campuses in Virginia.
Abortion is always an important issue for voters, especially in tightly-contested races as are usually waged in Virginia. We must educate voters in Virginia, so that more of them will know abortion is an act of violence that kills a baby. So often, the media defines pro-life candidates as "ultra-conservative" and "extreme" candidates on the "far-right," whereas they describe pro-abortion candidates as "moderate" on abortion. We must show voters what abortion is and does, so that they will understand that killing a baby is an act of extremism, not moderation.
CBR's fundamental operating principle comes from the King family. Rev. Martin Luther King, Jr. said, "America will not reject racism until America sees racism." His niece Dr. Alveda King now says, "America will not reject abortion until America sees abortion." Successful reformers like those in the King family knew pictures change hearts and minds. William Wilberforce and Thomas Clarkson used drawings to end slavery in England. Lewis Hine's traveling photographic display helped to end child labor. CBR now uses abortion images to win hearts, change minds and save lives on college campuses.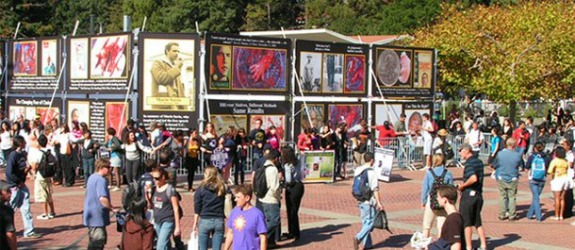 The Genocide Awareness Project (GAP) shows college students the humanity of the pre-born child and the shocking violence of abortion. Using a large visual display, GAP compares abortion to other forms of historical genocide, including the Holocaust, slavery, and Cambodia. In addition, "CHOICE" signs refute pro-abortion rhetoric by visually defining what the words really mean. In front of the display, our talented pro-life apologists dialogue with students as they process the enormity of the crime. GAP wins hearts, changes minds and saves lives. Every time.
Here are two videos and their links to illustrate our campus project:
https://www.youtube.com/watch?v=b8Rk44gn824 (Video explains the history of social reform and why using pictures is crucial to change hearts and minds about abortion.)
https://www.youtube.com/watch?v=mNmCtv-fCfM Julie's testimony from our recent GAP at University of North Florida this past Spring.
The Center for Bio-Ethical Reform (CBR) is working to establish prenatal justice and the right to life for the unborn, the disabled, the infirm, the aged and all vulnerable peoples through education and the development of cutting edge educational resources.
CBR's projects include the Reproductive "Choice" Campaign, the Genocide Awareness Project, Matthew 28:20, and AbortionNO.
CBR also publishes educational resources and conducts seminars to establish the humanity of the unborn and the inhumanity of abortion.
CBR was founded in July of 1990 as a privately-funded, non-profit educational corporation.
CBR operates on the principle that abortion represents an evil so inexpressible that words fail us when attempting to describe its horror. Until abortion is seen, it will never be understood.
CBR is strictly non-violent. We oppose violence against babies and against the abortionists who kill them. We do not engage in civil disobedience. All activities fall within the legal bounds of the First Amendment. Just as Dr. King sought to create a "creative tension" to awaken the nation to the horrible injustice of segregation, we too are creating a "creative tension" to awaken the nation to the horrible injustice of abortion.