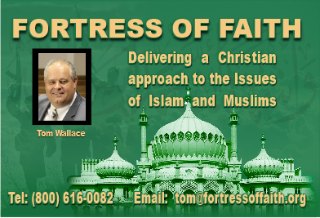 (for more indepth understanding of Islam, see Virginia Christian Alliance advisor, Dan Wolf's 13 part series by clicking HERE) (See Part 1 Here)

Fortress of Faith Radio by Tom Wallace and Shahram Hadian, and today's program: The History of Islam. Below are simple SHOW NOTES and prone to typos. So, Listen to the program HERE ( OR DOWLOAD THE MP3 HERE)
We call Islam a religion, but historically we see it is more of a political-military movement. We see this when we study the caliphates (empires) of Islam.
Before we get into the next period, I want to go back to Muhammad's migration to Medina. Not only did the character of Islam change at that time, there was also a change of the calendar. The Islamic calendar is not the same as ours. We are in 2016, but on the Muslim calendar it is 1438. Their calendar begins in our year 622. Our calendar uses the abbreviation AD to indicate Ano Domini, the year of our Lord. The Muslim calendar uses AH for Ano Hijra (migration), the year of the migration.
Today we are 578 years apart, but since our calendar is based on the solar year, and the Muslim calendar is based on the lunar year, the gap is closing. The lunar year is about 11 days shorter than the solar year. The calendars will agree in the year 2860.
Read More