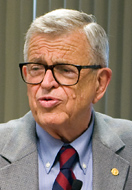 I have warned you for months that our religious freedoms are imperiled. Well, Armageddon may be close at hand if a new court decision holds up.
Yesterday, federal district court Judge Vaughn Walker, a Reagan appointee, overturned California's Proposition 8, which defines marriage as the union of one man and one woman.
While the immediate impact is limited to the state of California, the consequences of this egregious bit of judicial overreach threatens to be nationwide.
Two years ago, the California Supreme Court ruled that denying same-sex couples the right to marry violated the state constitution. CONTINUED on Break Point