May 12, 2017 (LifeSiteNews) — Target stores are promoting a gay pride line of products dubbed "Take Pride" despite facing huge losses from a boycott against the company's transgender bathroom policy.
The retailer is merchandising the gay agenda for the second year in a row, with rainbow-adorned shirts, pants, shorts, swim trunks, iPhone cases, and other items honoring Gay "Pride Month" in June.
The gay-affirming merchandise is accompanied by a promotional flyer with the promise: "For each PRIDE item sold, Target will donate 50 percent of the purchase price to GLSEN (the Gay, Lesbian, and Straight Education Network)."
When Target began its "Take Pride" line of merchandise, the company issued a statement: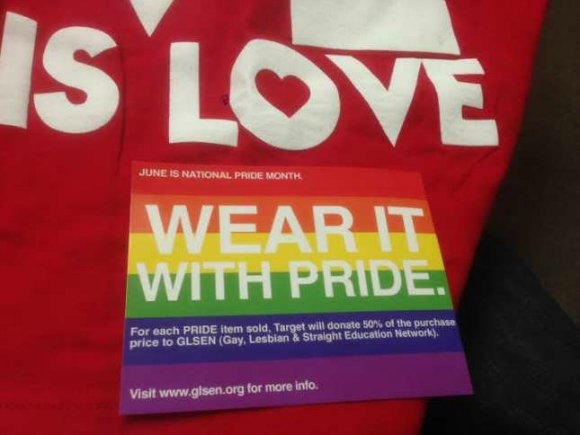 "We're making our message loud and clear: Target proudly stands with the LGBT community … through all that we do," Laysha Ward, Target's executive vice president and chief corporate responsibility officer, boasted. She cited gay demonstration "volunteer efforts" and "partnerships" with homosexual groups such as the Gay, Lesbian & Straight Education Network "to the very products we carry in our stores and online."
Target's "Take Pride" promotional campaign follows a controversial transgender bathroom policy allowing men to use women's restrooms, changing rooms, intimate facilities, and vice versa. The corporate giant also eliminated all gender references in its toy and bedding departments, taking down "boys" and "girls" signs to support gender fluidity.
In 2015, Target signed a "friend of the court" supporting homosexual "marriage." Their commercial for a "Made to Matter" line of products featured two gay men painting with a child.
The homosexual-affirming policies resulted in a massive boycott (#BoycottTarget, #FlushTarget) of the retailer by an estimated 1.5 million customers and declining Target stock value.
The transgender bathroom policy also resulted in complaints of sex offenses in Target changing rooms and bathrooms in California, Idaho, New Hampshire, Oregon, Texas, Washington state, and Ontario.
The American Family Association (AFA) noted that dramatically declining sales and stock value forced Target to cancel expansion plans, fire five top executives, and cut CEO Brian Cornell's salary by one-third.
SOURCE: LIFESITENEWS