Jan Markell welcomes Dr. Mark Hitchcock and Jeff Kinley to examine the coming great global Reset. They conclude the Reset is the Tribulation and we are seeing a run-up to that today. The global elite are awaiting the next global crisis to further implement their one-world plans. It is on the horizon.
COVID unleashed a cascade of consequences that are now reaching far beyond the pandemic itself. Governments have begun leveraging the coronavirus and even the vaccine as a power grab, setting the stage for further intrusions in the future. These accelerants are driving the world to the precipice of fundamental, irreversible transformation. The winds of change are blowing. Tectonic shifts are underway at every level.   Find the authors' new book in our online store.
These realities are alarming by themselves.
And yet, there remains a still deeper, more sinister agenda imbedded within. According to prophecies found in the Bible, a one-world government will indeed emerge in the end times. According to the book of Revelation, a future unified government will encompass the whole earth, and Satan himself will be behind it for the ultimate purpose of ruling over all the earth and being worshipped by its inhabitants. While we aren't in the end times, we're on the edge of the precipice.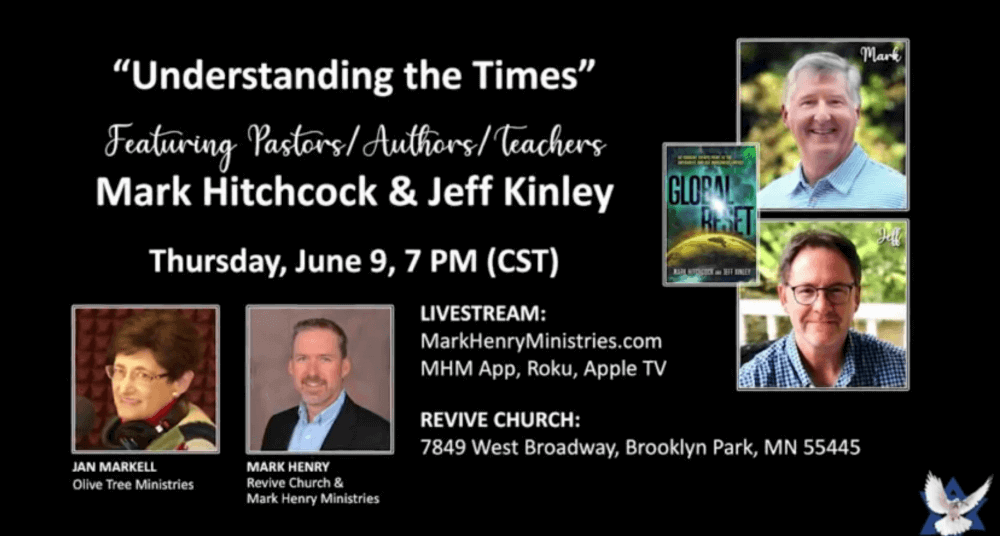 Message Resources:
http://marklhitchcock.com/
https://jeffkinley.com/
https://www.markhenryministries.com/
Follow Jan on:
Olive Tree Ministries: https://bit.ly/3g5qxbY
Rumble: https://bit.ly/395DxMC
YouTube: https://bit.ly/2Wt9jMA
HisChannel: https://bit.ly/39EH6tU
LightSource: https://bit.ly/3qnosgl
Oneplace: https://bit.ly/3oo5cNG
Gab: https://bit.ly/2MzQ9my
Facebook: https://bit.ly/38oRa86
Instagram: https://bit.ly/3mzqkiR
Telegram: https://bit.ly/3n3WYNc
Twitter: https://bit.ly/2KDUJzk