Press releases were sent to approximately 40 news media, such as the Richmond Times Dispatch and television stations but only 2 showed up and none from Richmond: Washington Post and TV 29 of Charlottesville! (thanks for coming!). Richmond reporters are avoiding Tim Kaine's dark side including his violation and disobedience to the core beliefs of the Catholic church. Will Richmond reporters not cover Kaine's dark side? Kaine's church is located at 2712 2ND Avenue, Richmond, VA. and the Richmond Times Dispatch is at 300 E. Franklin, less than 3 miles away.
The release sent yesterday and photos from today's protest are added below:
Fellow Richmond Diocese Catholics call out Tim Kaine at St. Elizabeth's Catholic Church
Frances Bouton
August 27, 2016
A group of faithful Richmond Diocese Catholics will be protesting on the sidewalk in front of Tim Kaine's church, St. Elizabeth's Catholic Church in Highland Park, tomorrow after the 9:00 am Sunday Mass. Starting at 9:30 am the faithful will be gathering to protest Tim Kaine's claim that he is a Catholic in good standing. He is not!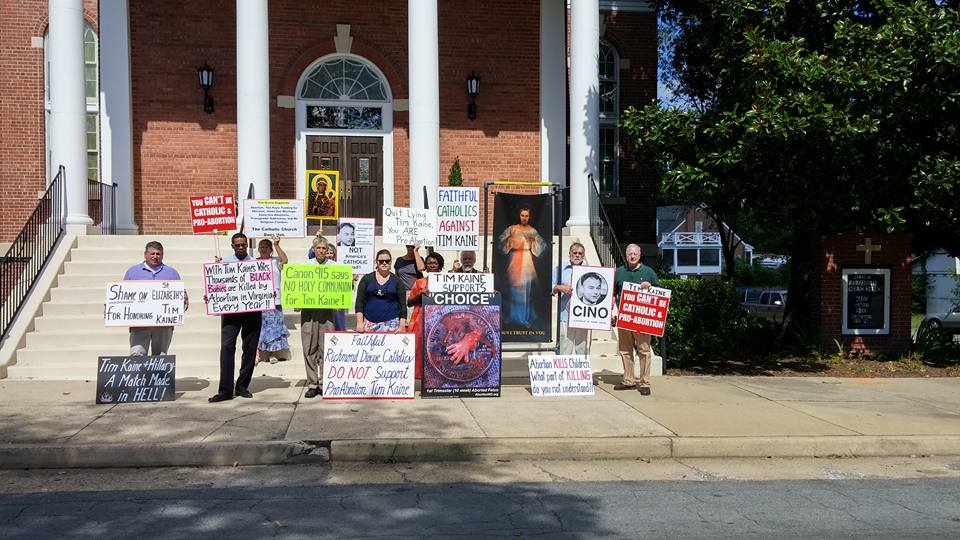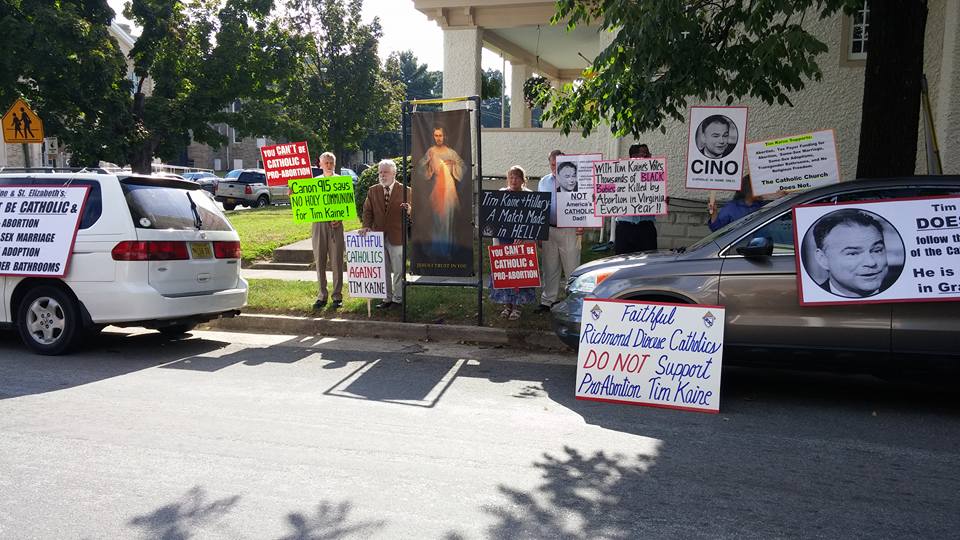 Senator Tim Kaine calls himself a Catholic, but nothing could be farther from the truth. He has repeatedly defied Catholic teaching in many areas – most particularly on the sacredness of human life and traditional marriage between one man and one woman – teachings that are at the heart of the Catholic Church. His support for abortion, same-sex marriage, same-sex adoption, transgender bathrooms and no religious freedom puts him squarely in opposition to the Catholic faith.
Tim Kaine may have a friendly and paternal demeanor, but he is no friend of the Catholic Church and no friend of children. Kaine is perfectly happy that the innocent unborn are dismembered or crushed to death in abortions, and he is perfectly happy that children are adopted by same-sex couples. Tim Kaine is certainly not America's Catholic Dad!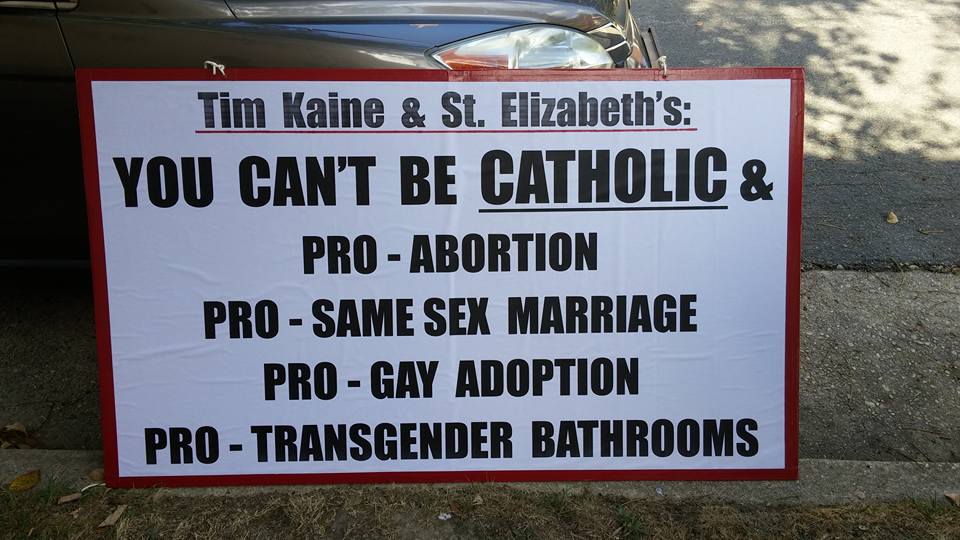 In this Jubilee Year of Mercy, Catholics and people of good will are called to perform acts of mercy. In the Catholic Church, we are given specific corporal and spiritual works of mercy – seven of each. The corporal works include feeding the hungry, clothing the naked, visiting the sick and burying the dead. But it is two spiritual works of mercy which we hope to perform in front of St. Elizabeth's Church – admonishing the sinner and instructing the ignorant.
Let it be said to Tim Kaine today, "You have a God-given free will to think and act as you please, but the Catholic Church has fixed laws and beliefs. You cannot freely go against these laws and beliefs and still call yourself a Catholic. You are in grave error! As a politician, Catholic Canon Law 915 dictates that you should not approach the Communion rail. In doing so, you bring down condemnation upon yourself."
Faithful Richmond Diocese Catholics and faithful Catholics from around the globe also say, "Tim Kaine, renounce your support for abortion, homosexual 'marriage', homosexual adoption, transgender bathrooms and intolerance towards businesses that exercise their First Amendment rights, or refrain from referring to yourself as Catholic. You cannot have it both ways. You are in grave error."
Contact info:
Frances Bouton
Tel: (redacted for this publication)
Email: (redacted for this publication)