New figures from 2010 show 18 Komen for the Cure affiliates giving over a half million dollars to the abortion giant Planned Parenthood. While this number is down from 2009 – when a whopping $731,303 was donated to fund abortions – it is still an extraordinarily large sum of money and shows a clear connection between the two organizations.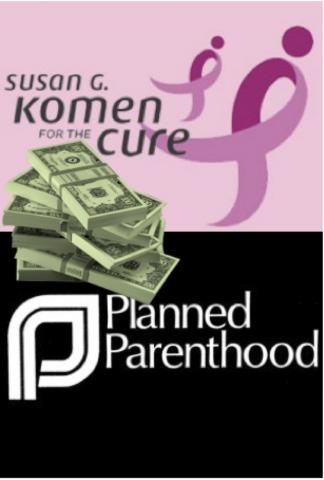 The real question is:
Why would an organization so dedicated to stopping breast cancer continue to pour money into Planned Parenthood: a group that profits off of pushing abortions and contraceptives (both proven to be directly linked BACK to breast cancer). Doesn't seem to make much sense…
LifeNews reports:
Komen's support of Planned Parenthood is defeating its own mission of fighting breast cancer," Rita Diller, the director of ALL's STOP Planned Parenthood International program, told LifeNews.com in exclusive comments. Diller added that Planned Parenthood — beyond the issue of abortion — is not the best place for Komen to send hundreds of thousands of dollars of donations if it truly wants to help women prevent or combat breast cancer.