There is nothing in this world that compares to parenting:
Scripture reference: Psalm 127:1-5
There is nothing in this world more important than children
*Children are God's providential blessings in our lives.
Ref.- Luke 18:15-17- "they brought infants to Jesus that He might touch them; but the disciples rebuked them.. But Jesus called them to him and said. 'Let the little children come to Me, and do not forbid them; for of such is the kingdom of God. Assuredly, I say to you, whoever does not receive the kingdom of God as a little child will by no mans enter it.'."
*Inconvenient facts:
Americans have aborted 1/3 of all babies conceived since the Supreme Court legalized abortion in 1973. It's ironic that Yuppies/boomers will pay the price for this w/ less social security $ being collected because of 40-50 million fewer tax payers in the system.

More pre-born children are killed every couple years by abortion than Americans died in the Revolutionary War, Civil War, both World Wars, Korean, Vietnam, and both Gulf wars combined.

Quote (Rieta Diller, National Director of American Life League's, Stop Planned Parenthood international project said in SBC Life Magazine, January 2011): "Planned Parenthood is a business making a very clear business decision…abortion is its most lucrative 'service,' and like all businesses, P.P. is simply maximizing its profits from its primary moneymaker." Dillar went on to say, "each one of those 324,008 abortions took the life of a unique, innocent, and unrepeatable human person."

Planned Parenthood received 350 million dollars in government grants and contracts last year with the full support of President Obama who in 2009 (SBC Life Mag., Jan. 2011) "revoked pro-life spending policies that barred federal funds for groups overseas that promote abortion."

27,000 abortions were performed last year in

Virginia
*Question: What are you willing to do to stop this holocaust?
Ref.– 2 Chron. 28:3 Judah's King Ahaz offered his children to be burned to idols, and suffered God's wrath. He and his people were defeated by and delivered to the hand of the Syrians
Jeremiah 32:35- God's people offered their children to Molech/Milcom, and God hands them over to the Babylonians.
Ref.- Deuteronomy 30 "live and multiply, and the LORD your God will bless you…I have set before you life and death, blessing and cursing; therefore choose life, that both you and your descendants may live…"
*Application/What can you do?.———- volunteer at the Crisis Pregnancy Resource Center, donate $, march in the rally for life, write the governor/president/senator/congressman, vote, adopt, care for a teenaged mom, inconvenience yourself…get involved!
There is nothing in this world more rewarding than rearing children
*Illus.- children are like arrows in our hands. We as parents are to guide them, aim them, and then release them, shooting them off into a world that needs them to make an impact. Parents need to take the initiative to disciple their own children: praying together. doing devotions, disciplining, encouraging, going w/ them to church…
*Example: Susanna Wesley
There is nothing in this world that brings more joy than children
*"quiver"= case for holding arrows…
Often times we as adults are carrying around pain/heartache from past wounds:
some may carry regret from past failures

some want a child but God hasn't given you one

some have experienced an abortion

some are healing from childhood wounds (emotional)
Action item: take your heart ache to Jesus, and find a way to help a child now…
Practical Application:
5 Important choices every Christian should make for life
#1 Choose to give life a chance (personally)
#2 Choose to educate your loved ones about the value of life. (mom/dads get proactive)
#3 Choose to influence your community about the value of life
Ex.- our kids, schools, churches, politicians, young ladies/boys who find themselves in a crisis. They need to know that have options (adoption, keeping the baby).
#4 Choose to attend a church that values life
· The church needs to be a place of grace where no young lady would be so ashamed by a bad decision that she would try to conceal it by making an infinitely worse decision. The church needs to be a place where a person who has been though an abortion can come and experience love, acceptance, and forgiveness.
#5 Choose to vote for politicians that value life & support causes that defend life. Help those who need it most (pregnant
ladies and ladies who are suffering from the affects of abortion)
*Ref.- Prov. 31:8 "Open your mouth for the speechless/Speak for those who have no voice, in the cause of all who are appointed to die."
Ex.- Virginia Christian Alliance or Chesterfield Pregnancy Resource Center
Conclusion:
There is nothing in this world that compares to parenting, therefore parents, let's make our kids our priority by discilping them. Church, let's do what we can to support parents as they endeavor to bring up a generation of champions for Christ! Community, let's get involved with defending life in the womb!
Psalm 127: 1-5
Except the LORD build the house, they labour in vain that build it: except the LORD keep the city, the watchman waketh but in vain. It is vain for you to rise up early, to sit up late, to eat the bread of sorrows: for so he giveth his beloved sleep. Lo, children are an heritage of the LORD: and the fruit of the womb is his reward. As arrows are in the hand of a mighty man; so are children of the youth. Happy is the man that hath his quiver full of them: they shall not be ashamed, but they shall speak with the enemies in the gate.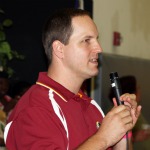 Rev. Pat Fiordelise is the pastor of Kingsland Baptist Church in Richmond, VA. He was born in 1973, the year Roe vs. Wade was decided by the U.S.Supreme Court. Pro-life issues are important to him and very personal because more than 40 million of his peers were never allowed the chance to be born over the past four decades.
Abortion is a national disgrace, and Pastor Pat is determined to assemble an army of pastors in Virginia called Pastors for Life who will openly take a stand for the pre-born.