We have an exciting event sponsored by Christian Medical and Dental Association of Richmond and the Richmond Justice Initiative .
Trade of Innocents, at the Byrd Theater on Friday, January 11, 2013 (Human Trafficking Awareness Day).
Doors open @ 6:30 pm and the event begins @ 7 pm. Suggested ticket donation is $5.
This film was funded by a CMDA couple to raise awareness of the issue of human trafficking.
www.tradeofinnocentsthemovie.com
Do you remember what you were doing when you were nine years old? Maybe you were running on the playground with friends during school recess. Or maybe you were having a sleepover. Or maybe you were going on vacation with your family.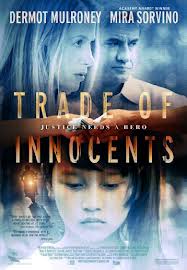 Geeta didn't have a chance to enjoy any of those activities when she was a nine-year-old. She was going to start a new job to help earn money for her family. But she never made it her first day of work. Instead, she was sold to a brothel and forced into having sex with up to 60 men each day.
Without question, Geeta's story is a harrowing and terrifying account of the horrible atrocities of human trafficking. What's even more shocking than her tragic circumstances is that this story is no longer uncommon for a large part of our world. Although Geeta was eventually rescued by a policeman from her dire circumstances, the memories of her time enslaved will always remain with her. Reminders of her former life will always haunt her, effectively creating another tomb to imprison her.
Can you imagine what your life would have been like if you were forced into the same situation as Geeta? Can you even begin to fathom the pain you would feel if Geeta were your child or your grandchild?
It's a pain that the victims of human trafficking and their parents and families across the world feel each and every single day. And it's a pain that the rest of the world continues to ignore. But with the help of movies like Trade of Innocents and organizations like CMDA, this pain is now being brought to the surface. Our world can no longer stand idly by and watch as millions of people are affected by this injustice every year. The time to get involved is now, as we work to save one life at a time. Will you join us in the fight against human trafficking?
" Very rarely do you find a film, a thriller no less, with such heart beating at its core. in Christopher Bessette's unflinching look at modern day slavery, Mira Sorvino and Dermot Mulroney transport us to this dark world, but with a glimmer of hope. Trade Of Innocents will break your heart " – Nicki Richesin, the Huffington Post
"powerful and important new film" – ET online
" this outstanding thriller with a very important message for the world, is the best i've seen in 2012! " – Amy R. Handler, Film Threat
" extremely powerful with a message vital for the world! " – Jeffrey Lyons/WCBS/lyons Den Radio