As in the Days of Noah Awarded Best Short Film
Editor's note: This article was adapted from a news release that was recently distributed to the media.
Thousands of guests have been impacted by this powerful drama at the Ark Encounter.
The new film As in The Days of Noah, shown at the Ark Encounter themed attraction of Answers in Genesis (AiG), was the recipient of two first-place movie awards at the 5th annual Christian Worldview Film Festival which concluded Saturday.
The international festival, held in the Nashville area and attended by over 1,000 people at the awards ceremony on Saturday evening, also gave a first-place award to AiG for Best Children's Film for the movie Ice Age.
The film awards for AiG:
Best Short Film: As in the Days of Noah (25 minutes)
Best Gospel Presentation Film: As in the Days of Noah
Best Children's Film: Buddy Davis for Ice Age
As in the Days of Noah was created especially for viewing by guests at the Ark Encounter themed attraction of AiG, south of Cincinnati. Ark visitors can view the film on large screens on the third deck of the massive Ark.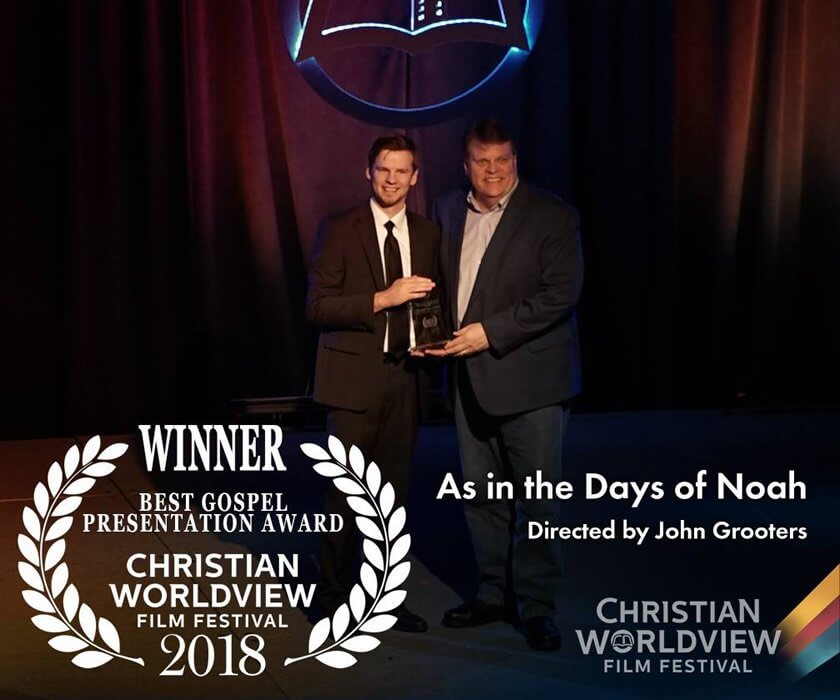 A CWVFF representative (left) presents AiG VP Dale Mason one of the two awards received for the Ark Encounter film As in the Days of Noah.
Ken Ham, president/CEO of Answers in Genesis and an executive producer of the two award-winning films, remarked, "Over 75 films were up for nominations at the film festival. We're thrilled that God blessed us with three major awards. I want to acknowledge our talented staff, especially Ben Wilt and Buddy Davis, who created Ice Age. Also, we were excited to partner with Grooters Productions in making As in the Days of Noah for our Ark Encounter attraction."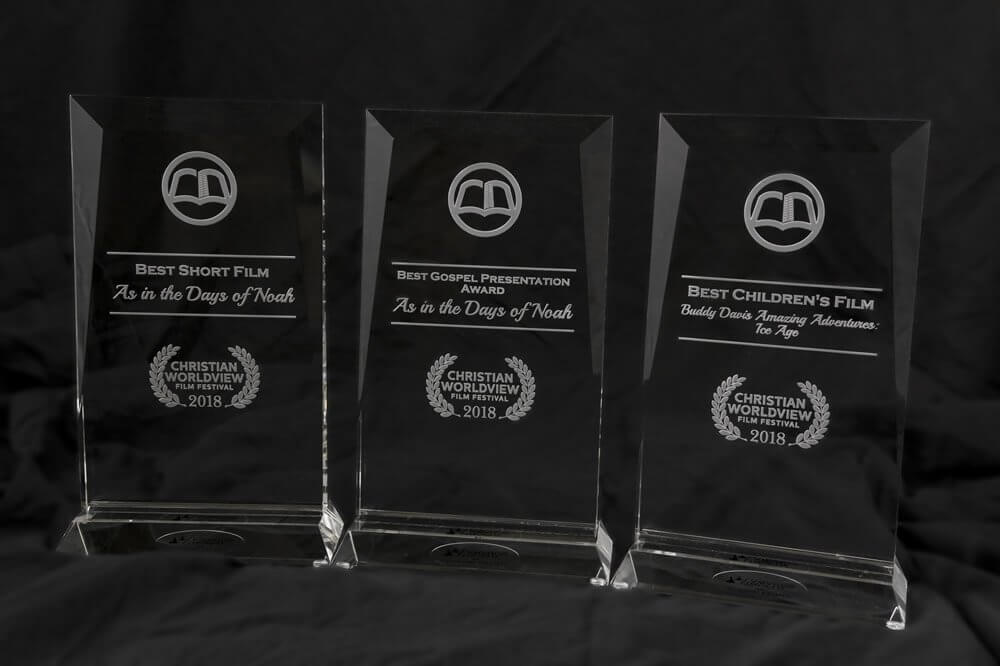 Answers in Genesis received these three awards from the recent Christian Worldview Film Festival.
The drama As in the Days of Noah depicts a reporter with a New York City tabloid who travels to the Ark Encounter with her team to write a hit piece on the life-size 510-foot-long Noah's Ark. After the reporter peppers the Ark director with pointed questions, she and her crew watch a special holographic message from evangelist Ray Comfort of the Living Waters ministry. Comfort points out that our modern world isn't all that different from the turbulent world of Noah's day. The various encounters at the Ark are eye-opening for the cynical reporter.
Join explorer Buddy Davis as he hikes atop glaciers, kayaks among icebergs, and reveals amazing facts about animals that lived during the Ice Age.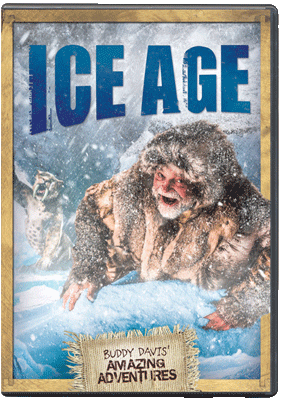 Ice Age is a live-action film that features adventurer and AiG speaker/songwriter Buddy Davis. Davis hikes atop glaciers, kayaks among icebergs, and along the way reveals remarkable facts about animals that lived during the Ice Age after Noah's Flood. Ice Age, which is a part of Buddy Davis' Amazing Adventuresseries, includes plenty of music and animation.
The best long drama award went to Like Arrows, produced by FamilyLife Ministries. One of the movie's executive producers, Dennis Rainey, will be a guest speaker at AiG's national Equipping Families to Stand conference at the Creation Museum in July.
The nonprofit Christian Worldview Film Festival was launched in 2014 to encourage Christian filmmakers to produce movies with a biblical worldview and to encourage more Christians to become involved in filmmaking.
The festival is a six-day event led by Phillip Telfer, Stephen and Alex Kendrick, and scores of other top-level leaders in today's Christian filmmaking world. Information on the festival can be found at
ChristianWorldviewFilmFestival.com/festival.
Answers in Genesis is an apologetics (i.e., Bible-defending) ministry based in Northern Kentucky, near Cincinnati. In 2016 AiG opened the Ark Encounter, a one-of-a-kind Christian themed attraction with a massive Noah's Ark in Williamstown, Kentucky, which draws up to 8,000 guests in a day. The Creation Museum, located west of the Cincinnati Airport, has welcomed 3.5 million visitors and has also proven to be a major family attraction in the Midwest.