Atheists Convert to Christianity: Impacted by I Don't Have Enough Faith to Be an Atheist College Seminars Because of your support, I have the privilege of recording two TV shows per month, a radio show every Saturday, and speaking to live audiences much more often (58 presentations since January including 12 I Don't Have Enough Faith to Be an Atheist seminars at colleges). Many of our hundred or so CIA graduates are busy as well. It is often difficult to measure our impact in this blur of activity. But two testimonies we just received from CIA graduates Allen Hainline in Dallas and Eric Chabot in Ohio serve as evidence of how God is blessing our work and how important your support is.
Allen Hainline writes: "I just wanted to share that a guy on our campus (UT Dallas) has been converted from atheism to Christianity this year. His name is Mitch and he is a grad student in EE – please be praying for his spiritual growth. He grew up in a nominal Christian household but became an atheist at college. He attended the "I Don't Have Enough Faith to Be an Atheist" seminar that Frank did at our campus in September and was affected significantly by it – he then read the book, which helped even more. One interesting note is the barrage of shallow questions asked by atheists in the Q&A at the seminar really made him think they were close-minded. The student leader of our Reasonable Faith apologetics group, Garrett Engel, really was used by God in witnessing to Mitch and showing him how the evidence is on our side. So praise God and keep up the good work Frank – God is using your ministry and apologetics is important for evangelism!"
Eric Chabot writes: I wanted to share a similar testimony. This student has attended both of Frank's lectures here at Ohio State University. He was an atheist who was attending the atheist group meetings here but then started coming to our Ratio Christi campus meetings to hear a different perspective. He recently told me that he has left atheism and thinks that the argument for Jesus being the Messiah is the strongest piece of evidence that he has seen yet. Hence, he has committed himself to be a follower of our Lord. I praise God for this. Sometimes we want instant results. But in this case, this student took the time to really investigate to see if what we believe is true. I admire him for that.
Thanks be to God and to you for your support. We would not be impacting eternity this way without you.
By the way, these conversions are one of many reasons why we must continue providing evidence for our views. Here are six more reasons.
Protesters at Ohio University Hear I Don't Have Enough Faith to Be an Atheist:
As I mentioned in my last email, the homosexual rights group "Open Doors" tried to close the doors on my I Don't Have Enough Faith to Be an Atheist seminar at Ohio University. About 350 attended that night (and similar crowds attended our events at Ohio State the next two nights). At Ohio University about 25 came to protest outside the event. I introduced myself to them beforehand and invited them all in. They stood in the back for all three hours and heard the entire program, including the Gospel!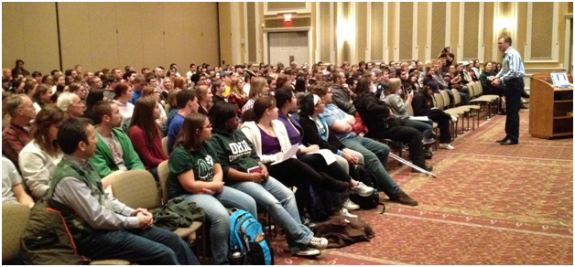 Over 350 attended our Ohio University event as protestors stood in the back and listened.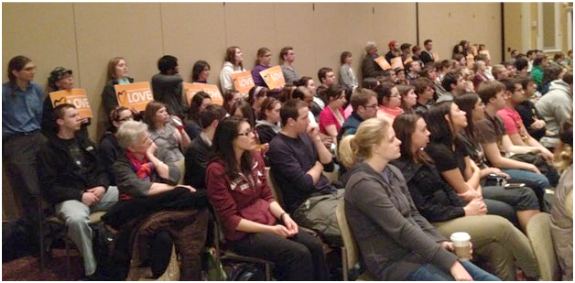 During the Q&A they asked several questions—none of them challenging any of the evidence I gave for Christianity—but instead dealing with homosexuality and morality. One asked if homosexuality is a sin. I said, "Having homosexual feelings is not a sin, but engaging in homosexual behavior is. But homosexual behavior is not the only sin out there. I am a sinner too and have to come to the foot of the cross just like everyone else."
Here's the school newspaper story on the event. The story contains one rather egregious error. It claims my book Correct, NOT Politically Correct cites "religious reasons" as the basis for my opposition to same-sex marriage. Actually, the exact opposite is true. I didn't use religious reasons at all, but instead made a natural law case against same-sex marriage. The reporter could have gotten that fact from the back cover of the book, but she just assumed she knew what it said (Imagine the media getting it wrong!).
Overall the night went very well. Many seeds were planted. Thank you for your prayers!
Footsteps of Paul Cruise with Indiana Jones and C.S. Lewis's Stepson!
There are still some spots available on an amazing biblical cruise that I'll be co-hosting this July withDr. Bob Cornuke (the real Indiana Jones) and Doug Gresham, right (stepson of C.S. Lewis). We will stop at some of the most beautiful places in the world, including Istanbul, Ephesus, Santorini, Athens, Corinth, Malta, Pompei, Sardinia, Sicily and Rome!
Go here for all the details http://www.livingpassages.com/footsteps-of-paul-maltaand to see a one-minute video. Or you can call Rhonda at 1-888-771-8717. Space is limited so sign up soon!
Teach Apologetics: Apply for the New CIA Now!
Our 5th annual CrossExamined Instructor Academy will take place in Charlotte, August 9-11, 2012. There will be more topics and more opportunities for you to hone your apologetics presentation skills this year. Go here for details. Apply soon because seats are extremely limited!
Thank you for empowering us with your prayers and donations.
Blessings,

Frank
Dr. Frank Turek
Founder & President of CrossExamined.org
Speaker and author/co-author of:
I Don't Have Enough Faith to Be an Atheist
Correct, NOT Politically Correct
Legislating Morality
TV: Wednesday Nights @ 9 pm & 1 am ET DirecTV Ch. 378
Radio: Saturdays @ 10 am ET
704-845-1997