Virginia Christian Alliance closed out the month of March with Liberty and Justice For All? on March 28th in alliance with the Frederick Douglass Foundation and the James River Metro Chapter of the Southern Christian Leadership Conference. We were graciously hosted by Pastor Harold Wilson and Victory Life Fellowship Church. Plans are developing for a program in Norfolk, stay tuned.
The topics of the four-hour program were prison reform, restoration of rights, ban the box, and fatherhood restoration. Each of the speakers shared their area of expertise and participated in one of the three discussion panels (see photos below). Members of the audience were encouraged to speak and ask questions.
Delegate Jimmie Massie, Congressman Dr. David Brat, Mark Gonzales, Alice Patterson, Don Blake and Rev. Dr. Owen Cardwell
Congressman Dave Brat of the central Virginia area and Virginia Delegate Jimmie Massie of Goochland attended the event and participated in the question and comment period.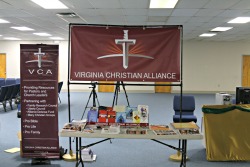 Two sponsors traveled from Texas while another traveled from Georgia to participate. They were pleased to have been part of a program with such an engaged and interested audience.
There is a national movement by Christian conservative groups to reform how felons are treated once they have completed their sentences. It was good to have Congressman Brat and Delegate Massie there to hear about the issues so many are struggling to overcome as they try to serve their sentences, maintain family connections, and re-enter society. There truly are many issues in need of reform.
Sponsors included Faith and Freedom Coalition, Justice Fellowship, and the National Black Robe Regiment.
Speakers:
Reverend Dean Nelson – Chairman, Frederick Douglass Foundation
Reverend Dwayne Whitehead – President, Southern Christian Leadership Conference, Metro James River Chapter
Don Blake – Chairman, Virginia Christian Alliance
Reverend Dr. Owen Cardwell – Pastor, New Canaan Church Int'l & Co-Founder Family Restoration Network
Martin Brown – Former Special Advisor to The Governor of Virginia, Prisoner Re-entry and Family Reintegration
Dr. Mark Beliles – President, Global Transformation Network
Minister Mercedies Harris – Executive Director, Hollaback & Restore Project
Michael Wade – Sheriff, Henrico County
Reverend Dr. Leonidas Young – Founder & Pastor, New Kingdom Christian Ministries & Former Mayor, City of Richmond
Clovia Lawrence – Radio One, "Miss Community"
Heather Rice-Minus – Senior Policy Advisor, Justice Fellowship
Reverend Mark Gonzales – Executive Director, National Black Robe Regiment
Timothy Head – Executive Director, Faith & Freedom Coalition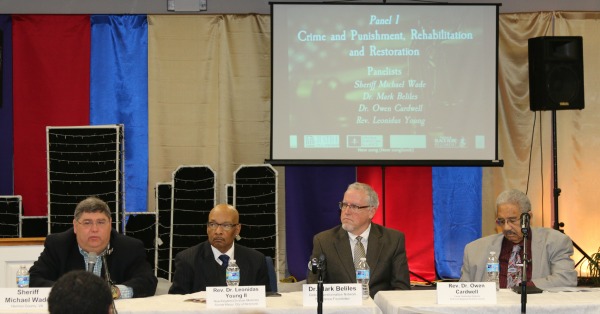 Panel 1 Sheriff Michael Wade Rev. Dr. Leonidas Young Dr. Mark Beliles Rev. Dr. Owen Cardwell
Panel 2 Timothy Head Martin Brown Mark Gonzales Heather Rice-Minus
The next program is slated for Norfolk.
The time is right for prison reforms that aren't just evidence-based, but values-based, reflecting our beliefs in the God-given dignity, value, and potential of every human being. Justice can be restorative when we make sure that the opportunity for both accountability and redemption are balanced at the core of our criminal justice system.
Why should justice be restorative? At its heart, crime isn't about law-breaking; it's about violating the peace and wholeness of the entire community. Public safety may require that we lock someone up, but that alone will not heal victims or the community or change the conditions that help breed crime. When the responsible party has the opportunity for redemption and restoration — by making amends to his victims, changing his thinking, and earning back the public's trust by living a law-abiding, constructive life upon release—the community can find healing and move beyond the vicious cycle of crime and incarceration. – Chuck Colson