VCA News – New Sign Goes Up!
At the end of October, 2014, VCA moved into its new office at 8659 Staples Mill Road in Richmond. It took awhile for the landlord to have a new sign made and installed. Three of the original founders stand in front of the new sign. Reverend Joe Ellison, VCA Founder Greene Hollowell, and VCA Chairman, Don Blake.
The new VCA office is about 100 yards from the original office location of six years. The new space has a larger, more private conference room, a full-size kitchen, and a meeting room that will seat at least 50 people very comfortably. The new space has already been used for group meetings, and plans are to make it available for other like-minded groups and church use.
If you are in the area, stop by for a visit!
Virginia Christian Alliance
8659 Staples Mill Road,
Henrico, Virginia 23228
Office: (804) 261-1570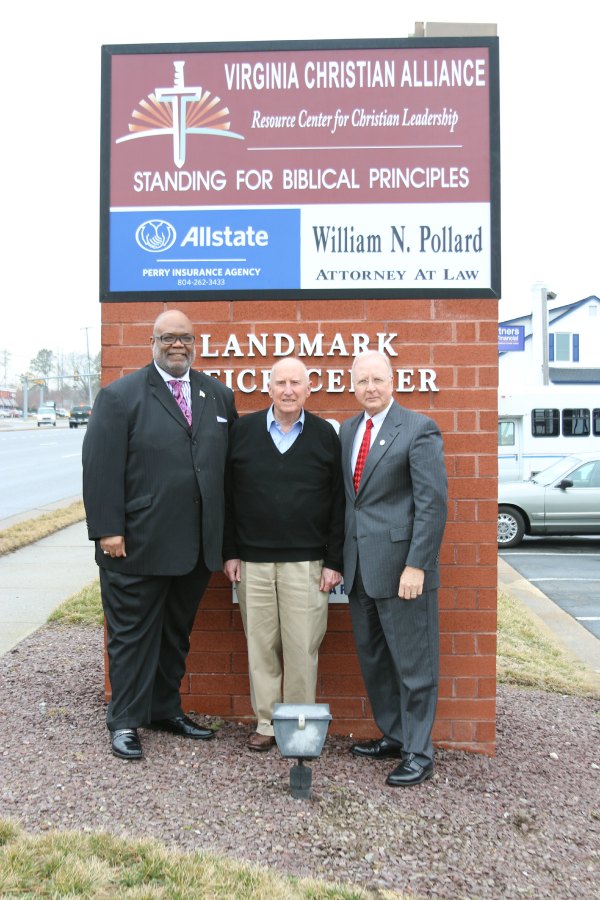 Reverend Joe Ellison, VCA Founder Greene Hollowell, and VCA Chairman, Don Blake