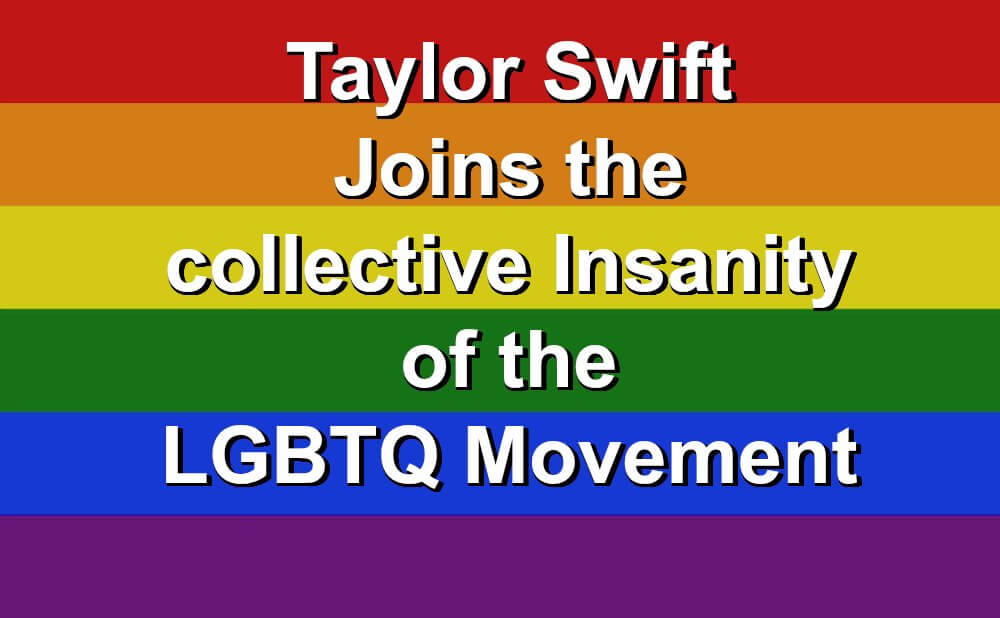 Calvin Freiburger | LifeSite News
June 18, 2019 (LifeSiteNews) — Pop superstar Taylor Swift is doubling down on her new social justice warrior persona with the release of her latest music video, a full-blown LGBT anthem that depicts those who hold a Christian view of homosexuality and a bilogical view of sex as angry, dim-witted rednecks.
NBC News describes the video for "You Need to Calm Down" as a "vibrantly colored, surreal" trek through a "pastel-colored trailer park, with anti-LGBT protesters being faced down or ignored by the flamboyantly dressed stars" that "culminates with [sic] a massive foot fight." Celebrity guests include Katy Perry, Ellen Degeneres, Ryan Reynolds, and Laverne Cox.
The video includes caricatures of anti-LGBT protesters as screaming rednecks with cartoonish hair and tattered clothes, bearing signs such as "homosexuality is sin" and a misspelled "get a brain morans." 
"You are somebody that we don't know, but you are coming at my friends like a missile," Swift sings. "Why are you mad? When you could be GLAAD?" (The official lyrics video spells the word "glad" with two A's, a reference to the LGBT activist group.) The lyrics also tell the straw-man version of Swift's foes that they "would rather be in the dark ages" and need to "control your urges to scream about all the people you hate, 'cause shade never made anybody less gay."
The video ends with text exhorting viewers: "Let's show our pride by demanding that, on a national level, our laws truly treat all of our citizens equally. Please sign my petition for Senate support of the Equality Act on change.org."
The so-called Equality Act would add "sex," "sexual orientation," and "gender identity" to federal "non-discrimination" categories in "public accommodations," expand the definition of "public accomodations" to include recreation, shopping, online retailers, health care services, and other kinds of establishments, and force anyone employing 15 or more people to recognize their claimed "gender identity" and mandate transgender "access" to opposite-sex restrooms, locker rooms, and dressing rooms.
"Taylor Swift is one of the world's biggest pop stars. The fact that she continues to use her platform and music to support the LGBTQ community and the Equality Act is a true sign of being an ally," GLAAD director of talent engagement Anthony Ramos said. "'You Need to Calm Down' is the perfect Pride anthem, and we're thrilled to see Taylor standing with the LGBTQ community to promote inclusivity, equality, and acceptance this Pride month."
For years, liberals attacked Swift for her relative silence on political and cultural causes. She gave in to the pressure last year, first by endorsing Tennessee's former Democrat governor Phil Bredesen in his failed Senate race against Republican Marsha Blackburn. In April, the country-turned-pop star donated $113,000 to the left-wing Tennessee Equality Project (TEP) to combat a series of bills before the Tennessee legislature to protect private entities' religious and conscience rights and reject state recognition of same-sex "marriage." Swift and TEP dubbed the legislation a "Slate of Hate."
---
Editor's Note: The true image of lustful sexual deviancy could be depicted below, as "gay pride" has a pretty good lock on two of the deadly sins, lust and pride:

Demon Asmodis was supposed by some Renaissance Christians to be the King of the Nine Hells.
Asmodeus also is referred to as one of the seven princes of Hell. In Binsfeld's classification of demons, each one of these princes represents one of the seven deadly sins ,  
(Lust, Gluttony, Greed, Sloth, Wrath, Envy, and Pride).
(Source: Wikipedia)