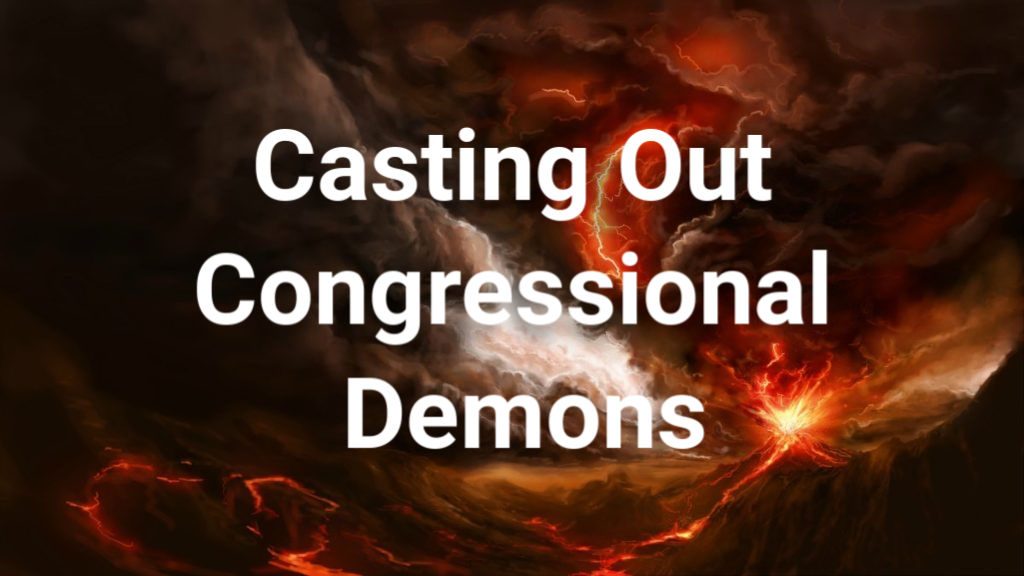 Terry James | Prophecy Watch
When I first read the headline to the story, a laugh spilled from my mouth automatically, almost as did the coffee I was imbibing. It was at first glance a knee-slapper. But the gravity of the truth wrapped within the news item drew my attention more deeply.
The headline stated: "House Chaplain Casts Out Demons During Morning Prayer in Capitol Building."
My thought was at first: If he exorcised all the demons weaving their way in and out of the House of Representatives in Washington, DC, there might not be enough of that body left to conduct government business.
That's not, perhaps, a kind way to think of our elected representatives. But with the things going on there and in and around all of what has come to be called the swamp, my instantaneous take on that headline seemingly is justifiable.
This is the gist of the story.
Reverend Patrick Conroy serves as the House of Representatives Chaplain in Washington, D.C. and regularly starts the day off for lawmakers with prayer. Thursday's invocation was a little more serious than most days for Rev. Conroy. The Roman Catholic Priest prayed specifically to cast out the demons inside Capitol Hill.

As reported by Fox News, Rev. Conroy said, "This has been a difficult and contentious week in which darker spirits seem to have been at play in the people's House."

"Then, in a dramatic moment, Conroy raised both hands and said, 'In Your most holy name, I cast out all spirits of darkness from this chamber. Spirits not from You. I cast out the spirit of discouragement which deadens the hope of those who are of goodwill.'"

"I cast out the spirit of petty divisiveness which clouds the sense and the desire to be of fruitful productivity and addressing the issues more appropriately before this House," he prayed. "I cast out any sadness brought on by the frustration of dealing with matters detrimental to the honorable work each member has been called to engage in."

Rev. Conroy is a Jesuit priest, an order of the Catholic Church. He has been serving as House Chaplain since 2011. ("House Chaplain Casts Out Demons During Morning Prayer In Capitol," by Timothy Meads, Townhall.com, posted on raptureready.com , July 19, 2019)
I don't mean to make fun of this gentleman's desire, nor his attempts, to cast out the dark spirits from the House of Representatives. But, if it had happened in actuality, I'm of the opinion there would have been an audible swooshing, not unlike the sound made by your favorite brand of vacuum cleaner. I can say this with a degree of certainty because our congressional bodies are considered the highest levels, in human terms, of powers and principalities.
Here, again, is what God's Word, through the Apostle Paul, has to say about this very matter of dark spirits and high places.
For we wrestle not against flesh and blood, but against principalities, against powers, against the rulers of the darkness of this world, against spiritual wickedness in high places. (Ephesians 6:12)
Such august human political, religious, and educational bodies are where these minions reside in great numbers. Their human consorts too often do their bidding, and we certainly are witnessing as never before the activities of these powers and principalities in high places.
In my opinion, we can sense the evil, bony, fingers of these dark powers and principalities manipulating their congressional human pawns. For example, the four freshmen Democrat House members who term themselves "the Squad" lead the way in taking that party ever farther from common sensibility and morality so long associated with American comportment.
One of the four in particular exhibits a virulent hatred for the nation Israel. Even under pressure to do so by such powerful people as House Speaker Nancy Pelosi, Democrat Rep. Ilhan Omar, a Muslim, refuses to back off her angry statements condemning all Jews and the nation Israel. At the same time, she and the other three of "the Squad" want to destroy America as founded and replace it with their vision of a socialist utopia.
The Democrat majority in the House of Representatives, now led, in effect, by Millennial types such as these four anti-America as founded women, seek to bring minuscule minority elements such as LGBTQ and others dedicated to doing away with moral restraint to the forefront of governing the culture. They intend to make the perversions that used to be unmentionable in public the new norm for living life in America.
The "Squad's" party has stood with great applause in adulation over their fellow party members making it legal in several states to murder babies right after their births. This done all for the woman's right to choose who lives and dies. There is now movement afoot among these same congressional types to make euthanasia legal in cases of the elderly and infirm.
And, these very minions of the dark powers and principalities have the audacity to accuse as being Nazis this president and those who support his wanting to bring America back to its founding principles.
The Lord, at present, has the dark powers, both human and demonic, in derision, as He states in Psalm 2. While I can't say I go along with either the Catholic idea of practicing Christianity, or with their view of exorcising evil spirits, I'm with this chaplain in wishing to cast out those powers and principalities.
Again, we are told to "stand" in these evil, closing days of the age. We are instructed how to spiritually dress in order to oppose these angry, anti-God entities"
Wherefore take unto you the whole armour of God, that ye may be able to withstand in the evil day, and having done all, to stand. Stand therefore, having your loins girt about with truth, and having on the breastplate of righteousness; And your feet shod with the preparation of the gospel of peace; Above all, taking the shield of faith, wherewith ye shall be able to quench all the fiery darts of the wicked. And take the helmet of salvation, and the sword of the Spirit, which is the word of God: Praying always with all prayer and supplication in the Spirit, and watching thereunto with all perseverance and supplication for all saints. (Ephesians 6:13-18)