Potchefstroom Herald, South Africa
By Cheryl Botha
It keeps family and friends connected, assists in emergency situations, provides immediate feedback and has taken knowledge to a whole new level.
But there is no doubt that this techno-revolution tsunami also has a downside that has to be managed properly.
Hundreds of gobsmacked teens hung on Brad Huddleston's every word during his brief visit to Potch last month. This Christian television and radio show producer is also an international evangelist with degrees in Computer Science and Bible. He spent a lot of time talking openly to high school learners about digital addiction.
"And I'm not only talking about porn and video games," he says. "I am pro media, electronics and social media, but new research coming out of South Korea is very disturbing."
Their government intervention was prompted by people like 15-year-old Kim Min-woo who started having memory problems and flunking tests that demanded concentration. He couldn't even remember the access code to get into his own house. Doctors diagnosed early onset dementia brought on by intense exposure to digital technology. Since he was five, Kim had always been in front of a TV screen or computer. He is mad about computer games.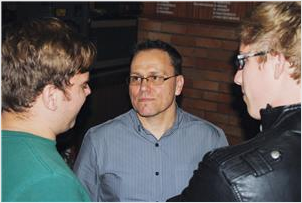 Photo: Cheryl Botha"His brain's ability to transfer information to long-term memory has been impaired because of his heavy exposure to digital gadgets," said psychiatrist Kim Dae-jin at St. Mary's Hospital in southern Seoul.
In this country 3-day long LAN parties are not uncommon. Youngsters sit in front of screens the whole time, without eating, drinking, sleeping or even going to the toilet. One couple was so engrossed in raising their 'virtual baby' that they forgot about their real one, who subsequently died of neglect.
No longer could anyone ignore that this mass addiction to "electronic cocaine" had caught everyone off guard.
National grades were plummeting, stress levels were on the rise, social dynamics were suffering. More and more teens were displaying concentration, memory, behavioural and discipline problems as well as sleep disturbances.
Worse still, diagnosable symptoms were being categorised as psychoses and given names – digital dementia (early onset dementia that resembles Alzheimers), anhedonia (the inability to experience pleasure from activities usually found enjoyable), nomophobia (no mobile-phone phobia) and FOMO (fear of missing out). Doctors were regularly treating cognitive dysfunction, manic depression and anxiety.
In his book "Thrilled to Death", Dr. Hart, Dean Emeritus and senior professor of Psychology, Department of Clinical Psychology at Fuller Theological Seminary says anhedonia comes largely from the over stimulation of pleasurable and exciting activities along with multi-tasking. He blames modern technology.
Fomo or nomophobia sufferers have panic attacks and anxiety-related symptoms like puffy eyes and gasping breath when they are without their cell phones, facebook or twitter. Others have neurological symptoms like eye twitches. This is according to Michael Carr-Gregg, an adolescent psychologist in Melbourne.
A recent online survey of 1,000 people in the UK found that almost 66 percent of respondents were affected, in comparison with 55 percent four years ago.
After investing millions in neuro-scientific research the S Korean government opened 200 detox centres for technology. Studies on the iphone in 2007 revealed that the brain actually undergoes physical and chemical changes. MRI scans show erosion of executive attention network in the frontal lobe. The brain is rewired for instant gratification and has to constantly be stimulated. Modern day teenagers find it impossible to sleep without music, depriving them of essential REM and deep sleep.
Huddleston says any digital activity for more than one hour pushes adrenal systems over the edge. Two hours of gaming has the same impact as snorting one line of cocaine.
Huddleston is the first to point out that digital technology is here to stay. In fact, it is increasingly being incorporated into academic programmes in schools.
"I care about your future. It reminds me of a spiritual conspiracy. It drowns out God's voice, caused chaos in families and keeps you from the important things in life," he warns. "We've got to learn to set limits, disconnect and take a brain break. We are going to have to master this thing before it masters us."
In South Africa, copies of Huddleston's books and DVDs are available from Marthie Bothma at 082 850 1200. In America and Australia, you can order them at www.bradhuddleston.com.
Read the article online.
—
Brad Huddleston has degrees in Computer Science and Bible. He is an author, speaker, and Evangelist. He and his wife Beth travel the globe ministering in conferences, churches, schools, and retreats. Brad often appears on radio and television. His book can be ordered at www.bradhuddleston.com and www.darksideoftechnology.com, and he can be reached at brad@bradhuddleston.com.
© 2011. Brad Huddleston Ministries. All rights reserved.